---
Amplified Bible, Classic Edition
23 Have I any pleasure in the death of the wicked? says the Lord, and not rather that he should turn from his evil way and return [to his God] and live?
24 But if the righteous man turns away from his righteousness and commits iniquity and does according to all the abominations that the wicked man does, shall he live? None of his righteous deeds which he has done shall be remembered. In his trespass that he has trespassed and in his sin that he has sinned, in them shall he die.
25 Yet you say, The way of the Lord is not fair and just. Hear now, O house of Israel: Is not My way fair and just? Are not your ways unfair and unjust?
Read full chapter
Amplified Bible, Classic Edition (AMPC)
Copyright © 1954, 1958, 1962, 1964, 1965, 1987 by The Lockman Foundation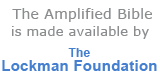 Bible Gateway Recommends
Amplified Large-Print Bible, hardcover
Retail: $34.99
Our Price: $22.99
Save: $12.00 (34%)

Amplified Reading Bible, Imitation Leather, Brown, Indexed
Retail: $59.99
Our Price: $38.99
Save: $21.00 (35%)

NKJV Amplified Parallel Large-Print Bible Flexisoft, Blue/Brown
Retail: $79.95
Our Price: $46.99
Save: $32.96 (41%)

The Amplified Topical Reference Bible, Hardcover
Retail: $39.99
Our Price: $17.99
Save: $22.00 (55%)

KJV and Amplified Parallel Bible, Large Print, Leathersoft, Camel/rich red
Retail: $79.99
Our Price: $52.99
Save: $27.00 (34%)
Everyday Life Bible: The Power Of God's Word For Everyday Living, Imitation Leather, pewter
Retail: $79.99
Our Price: $53.49
Save: $26.50 (33%)