---
14 When Moses' father-in-law saw all that Moses was doing for the people, he asked, "What are you really accomplishing here? Why are you trying to do all this alone while everyone stands around you from morning till evening?"
15 Moses replied, "Because the people come to me to get a ruling from God. 16 When a dispute arises, they come to me, and I am the one who settles the case between the quarreling parties. I inform the people of God's decrees and give them his instructions."
17 "This is not good!" Moses' father-in-law exclaimed. 18 "You're going to wear yourself out—and the people, too. This job is too heavy a burden for you to handle all by yourself. 19 Now listen to me, and let me give you a word of advice, and may God be with you. You should continue to be the people's representative before God, bringing their disputes to him. 20 Teach them God's decrees, and give them his instructions. Show them how to conduct their lives. 21 But select from all the people some capable, honest men who fear God and hate bribes. Appoint them as leaders over groups of one thousand, one hundred, fifty, and ten. 22 They should always be available to solve the people's common disputes, but have them bring the major cases to you. Let the leaders decide the smaller matters themselves. They will help you carry the load, making the task easier for you. 23 If you follow this advice, and if God commands you to do so, then you will be able to endure the pressures, and all these people will go home in peace."
24 Moses listened to his father-in-law's advice and followed his suggestions. 25 He chose capable men from all over Israel and appointed them as leaders over the people. He put them in charge of groups of one thousand, one hundred, fifty, and ten. 26 These men were always available to solve the people's common disputes. They brought the major cases to Moses, but they took care of the smaller matters themselves.
Read full chapter
2 You have heard me teach things that have been confirmed by many reliable witnesses. Now teach these truths to other trustworthy people who will be able to pass them on to others.
Read full chapter
Titus's Work in Crete
5 I left you on the island of Crete so you could complete our work there and appoint elders in each town as I instructed you. 6 An elder must live a blameless life. He must be faithful to his wife,[a] and his children must be believers who don't have a reputation for being wild or rebellious. 7 A church leader[b] is a manager of God's household, so he must live a blameless life. He must not be arrogant or quick-tempered; he must not be a heavy drinker,[c] violent, or dishonest with money.
8 Rather, he must enjoy having guests in his home, and he must love what is good. He must live wisely and be just. He must live a devout and disciplined life. 9 He must have a strong belief in the trustworthy message he was taught; then he will be able to encourage others with wholesome teaching and show those who oppose it where they are wrong.
Read full chapter
New Living Translation (NLT)
Holy Bible, New Living Translation, copyright © 1996, 2004, 2015 by Tyndale House Foundation. Used by permission of Tyndale House Publishers, Inc., Carol Stream, Illinois 60188. All rights reserved.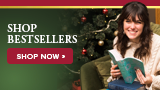 Bible Gateway Recommends
NLT Outreach Bible, Large Print Edition
Retail: $6.99
Our Price: $4.99
Save: $2.00 (29%)
The NLT One Year Chronological Bible - softcover
Retail: $19.99
Our Price: $15.99
Save: $4.00 (20%)

NLT Boys Life Application Study Bible, LeatherLike, Midnight/Blue
Retail: $49.99
Our Price: $39.99
Save: $10.00 (20%)
NLT Compact Giant Print Bible, Filament Enabled Edition (Red Letter, LeatherLike, Navy Blue Cross)
Retail: $34.99
Our Price: $23.99
Save: $11.00 (31%)
NLT Compact Giant Print Bible, Filament Enabled Edition (Red Letter, LeatherLike, Peony Rich Teal)
Retail: $34.99
Our Price: $23.99
Save: $11.00 (31%)
NLT Teen Life Application Study Bible, Softcover
Retail: $22.99
Our Price: $18.99
Save: $4.00 (17%)