---
16 Terror and dread fall upon them.
They see your strength, O Lord,
and stand helpless with fear
until your people have marched past—
the people you set free from slavery.
17 You bring them in and plant them on your mountain,
the place that you, Lord, have chosen for your home,
the Temple that you yourself have built.
18 You, Lord, will be king forever and ever."
Read full chapter
New International Version
16  terror(A) and dread will fall on them.
By the power of your arm
they will be as still as a stone(B)—
until your people pass by, Lord,
until the people you bought[a](C) pass by.(D)
17 You will bring(E) them in and plant(F) them
on the mountain(G) of your inheritance—
the place, Lord, you made for your dwelling,(H)
the sanctuary,(I) Lord, your hands established.
18 "The Lord reigns
for ever and ever."(J)
Read full chapter
Good News Translation (GNT)
Copyright © 1992 by American Bible Society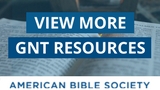 New International Version (NIV)
Holy Bible, New International Version®, NIV® Copyright ©1973, 1978, 1984, 2011 by Biblica, Inc.® Used by permission. All rights reserved worldwide.
NIV Reverse Interlinear Bible: English to Hebrew and English to Greek. Copyright © 2019 by Zondervan.