---
15 And Mordecai went out from the King in royal apparel of blue, and white, and with a great crown of gold, and with a garment of fine linen and purple, and the city of Shushan rejoiced and was glad.
16 And unto the Jews was come light and [a]joy and gladness, and honor.
17 Also in all and every province, and in all and every city and place, where the King's commandment and his decree came, there was joy and gladness to the Jews, a feast and good day, and many of the people of the land [b]became Jews: for the fear of the Jews fell upon them.
Read full chapter
Footnotes
Esther 8:16 He showeth by these words that follow, what this light was.
Esther 8:17 Conformed themselves to the Jew's religion.
New International Version
The Triumph of the Jews
15 When Mordecai(A) left the king's presence, he was wearing royal garments of blue and white, a large crown of gold(B) and a purple robe of fine linen.(C) And the city of Susa held a joyous celebration.(D) 16 For the Jews it was a time of happiness and joy,(E) gladness and honor.(F) 17 In every province and in every city to which the edict of the king came, there was joy(G) and gladness among the Jews, with feasting and celebrating. And many people of other nationalities became Jews because fear(H) of the Jews had seized them.(I)
Read full chapter
1599 Geneva Bible (GNV)
Geneva Bible, 1599 Edition. Published by Tolle Lege Press. All rights reserved. No part of this publication may be reproduced or transmitted in any form or by any means, electronic or mechanical, without written permission from the publisher, except in the case of brief quotations in articles, reviews, and broadcasts.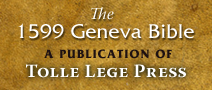 New International Version (NIV)
Holy Bible, New International Version®, NIV® Copyright ©1973, 1978, 1984, 2011 by Biblica, Inc.® Used by permission. All rights reserved worldwide.
NIV Reverse Interlinear Bible: English to Hebrew and English to Greek. Copyright © 2019 by Zondervan.