---
Living as Children of Light
17 With the Lord's authority I say this: Live no longer as the Gentiles do, for they are hopelessly confused. 18 Their minds are full of darkness; they wander far from the life God gives because they have closed their minds and hardened their hearts against him. 19 They have no sense of shame. They live for lustful pleasure and eagerly practice every kind of impurity.
20 But that isn't what you learned about Christ. 21 Since you have heard about Jesus and have learned the truth that comes from him, 22 throw off your old sinful nature and your former way of life, which is corrupted by lust and deception. 23 Instead, let the Spirit renew your thoughts and attitudes. 24 Put on your new nature, created to be like God—truly righteous and holy.
Read full chapter
New Living Translation (NLT)
Holy Bible, New Living Translation, copyright © 1996, 2004, 2015 by Tyndale House Foundation. Used by permission of Tyndale House Publishers, Inc., Carol Stream, Illinois 60188. All rights reserved.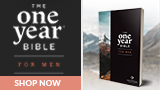 Bible Gateway Recommends
NLT Compact Bible, Filament Enabled Edition--hardcover cloth, floral garden
Retail: $19.99
Our Price: $13.99
Save: $6.00 (30%)
My First Hands-on Bible--soft leather-look, pretty pink
Retail: $19.99
Our Price: $15.99
Save: $4.00 (20%)

NLT Life Application Large-Print Study Bible, Third Edition--soft leather-look, brown, mahogan, red letter (indexed)
Retail: $94.99
Our Price: $65.99
Save: $29.00 (31%)
The Daily Walk Bible, NLT Softcover
Retail: $19.99
Our Price: $15.99
Save: $4.00 (20%)

A Girl After God's Own Heart Bible
Retail: $34.99
Our Price: $20.99
Save: $14.00 (40%)
NLT Life Application Study Bible, Third Edition--soft leather-look, brown/tan (indexed) (red letter)
Retail: $84.99
Our Price: $55.99
Save: $29.00 (34%)