---
16 [a]making the very most of your time [on earth, recognizing and taking advantage of each opportunity and using it with wisdom and diligence], because the days are [filled with] evil.
Read full chapter
Footnotes
Ephesians 5:16 The Greek word in this verse means "buy up at the market place." Opportunity is regarded as a commodity to be used by believers.
New American Standard Bible
Amplified Bible (AMP)
Copyright © 2015 by The Lockman Foundation, La Habra, CA 90631. All rights reserved.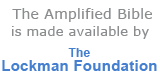 New American Standard Bible (NASB)
Copyright © 1960, 1962, 1963, 1968, 1971, 1972, 1973, 1975, 1977, 1995 by The Lockman Foundation