---
12 [a]For we wrestle not against flesh and [b]blood, but against (A)[c]principalities, against powers, and against the worldly governors, the princes of the darkness of this world, against spiritual wickedness, which are in the high places.
Read full chapter
Footnotes
Ephesians 6:12 Secondly he declareth that our chiefest and mightiest enemies are invisible, that we may not think that our chiefest conflict is with men.
Ephesians 6:12 Against men, which are of a frail and brittle nature, against which are set spiritual subtleties, more mighty than the other by a thousand parts.
Ephesians 6:12 He giveth these names to the evil angels, reason of the effects which they work: not that they are able to do the same of themselves, but because God giveth them the bridle.
New International Version
12 For our struggle is not against flesh and blood,(A) but against the rulers, against the authorities,(B) against the powers(C) of this dark world and against the spiritual forces of evil in the heavenly realms.(D)
Read full chapter
1599 Geneva Bible (GNV)
Geneva Bible, 1599 Edition. Published by Tolle Lege Press. All rights reserved. No part of this publication may be reproduced or transmitted in any form or by any means, electronic or mechanical, without written permission from the publisher, except in the case of brief quotations in articles, reviews, and broadcasts.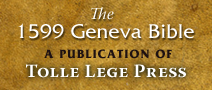 New International Version (NIV)
Holy Bible, New International Version®, NIV® Copyright ©1973, 1978, 1984, 2011 by Biblica, Inc.® Used by permission. All rights reserved worldwide.
NIV Reverse Interlinear Bible: English to Hebrew and English to Greek. Copyright © 2019 by Zondervan.