---
8 But you will receive power when the Holy Spirit comes upon you. And you will be my witnesses, telling people about me everywhere—in Jerusalem, throughout Judea, in Samaria, and to the ends of the earth."
Read full chapter
18 Jesus came and told his disciples, "I have been given all authority in heaven and on earth. 19 Therefore, go and make disciples of all the nations,[a] baptizing them in the name of the Father and the Son and the Holy Spirit. 20 Teach these new disciples to obey all the commands I have given you. And be sure of this: I am with you always, even to the end of the age."
Read full chapter
Footnotes
28:19 Or all peoples.
11 As the Scriptures tell us, "Anyone who trusts in him will never be disgraced."[a] 12 Jew and Gentile[b] are the same in this respect. They have the same Lord, who gives generously to all who call on him. 13 For "Everyone who calls on the name of the Lord will be saved."[c]
14 But how can they call on him to save them unless they believe in him? And how can they believe in him if they have never heard about him? And how can they hear about him unless someone tells them? 15 And how will anyone go and tell them without being sent? That is why the Scriptures say, "How beautiful are the feet of messengers who bring good news!"[d]
Read full chapter
New Living Translation (NLT)
Holy Bible, New Living Translation, copyright © 1996, 2004, 2015 by Tyndale House Foundation. Used by permission of Tyndale House Publishers, Inc., Carol Stream, Illinois 60188. All rights reserved.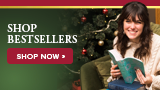 Bible Gateway Recommends
NLT Every Man's Bible Explorer Edition, Leatherlike
Retail: $59.99
Our Price: $36.99
Save: $23.00 (38%)

NLT Super Giant Print Bible, Filament Enabled Edition (Red Letter, LeatherLike, Peony Rich Teal)
Retail: $59.99
Our Price: $39.99
Save: $20.00 (33%)
NLT Premium Value Thinline Bible, Filament Enabled Edition-- soft leather-look, brown
Retail: $17.99
Our Price: $14.49
Save: $3.50 (19%)
NLT Compact Giant Print Bible, Filament Enabled Edition (Red Letter, LeatherLike, Navy Blue Cross)
Retail: $34.99
Our Price: $23.99
Save: $11.00 (31%)
NLT One Year Chronological Bible, Large Print Softcover
Retail: $22.99
Our Price: $15.99
Save: $7.00 (30%)

NLT Compact Giant Print Bible, Filament Enabled Edition (Red Letter, LeatherLike, Rose Metallic Peony)
Retail: $34.99
Our Price: $23.99
Save: $11.00 (31%)