---
Hushai Warns David to Escape
15 Hushai told Zadok and Abiathar, the priests, what Ahithophel had said to Absalom and the elders of Israel and what he himself had advised instead. 16 "Quick!" he told them. "Find David and urge him not to stay at the shallows of the Jordan River[a] tonight. He must go across at once into the wilderness beyond. Otherwise he will die and his entire army with him."
17 Jonathan and Ahimaaz had been staying at En-rogel so as not to be seen entering and leaving the city. Arrangements had been made for a servant girl to bring them the message they were to take to King David. 18 But a boy spotted them at En-rogel, and he told Absalom about it. So they quickly escaped to Bahurim, where a man hid them down inside a well in his courtyard. 19 The man's wife put a cloth over the top of the well and scattered grain on it to dry in the sun; so no one suspected they were there.
20 When Absalom's men arrived, they asked her, "Have you seen Ahimaaz and Jonathan?"
The woman replied, "They were here, but they crossed over the brook." Absalom's men looked for them without success and returned to Jerusalem.
21 Then the two men crawled out of the well and hurried on to King David. "Quick!" they told him, "cross the Jordan tonight!" And they told him how Ahithophel had advised that he be captured and killed. 22 So David and all the people with him went across the Jordan River during the night, and they were all on the other bank before dawn.
23 When Ahithophel realized that his advice had not been followed, he saddled his donkey, went to his hometown, set his affairs in order, and hanged himself. He died there and was buried in the family tomb.
Read full chapter
Footnotes
17:16 Hebrew at the crossing points of the wilderness.
New Living Translation (NLT)
Holy Bible, New Living Translation, copyright © 1996, 2004, 2015 by Tyndale House Foundation. Used by permission of Tyndale House Publishers, Inc., Carol Stream, Illinois 60188. All rights reserved.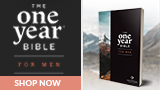 Bible Gateway Recommends
NLT One Year Chronological Bible, Large Print Softcover
Retail: $22.99
Our Price: $15.99
Save: $7.00 (30%)

NLT Life Application Large-Print Study Bible, Third Edition--soft leather-look, brown, mahogan, red letter (indexed)
Retail: $94.99
Our Price: $65.99
Save: $29.00 (31%)
NLT Personal-Size Giant-Print Bible, Filament Enabled Edition--soft leather-look, aurora cranberry
Retail: $39.99
Our Price: $27.99
Save: $12.00 (30%)
NLT The Life Recovery Bible, Softcover
Retail: $27.99
Our Price: $21.99
Save: $6.00 (21%)
NLT Life Application Study Bible, Third Edition--hardcover, red letter
Retail: $49.99
Our Price: $33.99
Save: $16.00 (32%)
NLT Compact Giant Print Bible, Filament Enabled Edition (Red Letter, LeatherLike, Navy Blue Cross)
Retail: $34.99
Our Price: $22.99
Save: $12.00 (34%)