---
8 But you must not forget this one thing, dear friends: A day is like a thousand years to the Lord, and a thousand years is like a day. 9 The Lord isn't really being slow about his promise, as some people think. No, he is being patient for your sake. He does not want anyone to be destroyed, but wants everyone to repent. 10 But the day of the Lord will come as unexpectedly as a thief. Then the heavens will pass away with a terrible noise, and the very elements themselves will disappear in fire, and the earth and everything on it will be found to deserve judgment.[a]
Read full chapter
Footnotes
3:10 Other manuscripts read will be burned up; one early manuscript reads will be found destroyed.
8 But do not overlook this one fact, beloved, that with the Lord one day is as a thousand years, and (A)a thousand years as one day. 9 (B)The Lord is not slow to fulfill his promise (C)as some count slowness, but (D)is patient toward you,[a] (E)not wishing that any should perish, but (F)that all should reach repentance. 10 But (G)the day of the Lord will come like a thief, and then (H)the heavens will pass away with a roar, and (I)the heavenly bodies[b] will be burned up and dissolved, and the earth and the works that are done on it will be exposed.[c]
Read full chapter
New Living Translation (NLT)
Holy Bible, New Living Translation, copyright © 1996, 2004, 2015 by Tyndale House Foundation. Used by permission of Tyndale House Publishers, Inc., Carol Stream, Illinois 60188. All rights reserved.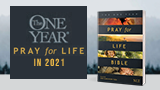 English Standard Version (ESV)
The Holy Bible, English Standard Version. ESV® Text Edition: 2016. Copyright © 2001 by Crossway Bibles, a publishing ministry of Good News Publishers.