---
6 In our work together with God, then, we beg you who have received God's grace not to let it be wasted. 2 (A)Hear what God says:
"When the time came for me to show you favor,
I heard you;
when the day arrived for me to save you,
I helped you."
Listen! This is the hour to receive God's favor; today is the day to be saved!
3 We do not want anyone to find fault with our work, so we try not to put obstacles in anyone's way. 4 Instead, in everything we do we show that we are God's servants by patiently enduring troubles, hardships, and difficulties. 5 (B)We have been beaten, jailed, and mobbed; we have been overworked and have gone without sleep or food. 6 By our purity, knowledge, patience, and kindness we have shown ourselves to be God's servants—by the Holy Spirit, by our true love, 7 by our message of truth, and by the power of God. We have righteousness as our weapon, both to attack and to defend ourselves. 8 We are honored and disgraced; we are insulted and praised. We are treated as liars, yet we speak the truth; 9 as unknown, yet we are known by all; as though we were dead, but, as you see, we live on. Although punished, we are not killed; 10 although saddened, we are always glad; we seem poor, but we make many people rich; we seem to have nothing, yet we really possess everything.
Read full chapter
New International Version
6 As God's co-workers(A) we urge you not to receive God's grace in vain.(B) 2 For he says,
I tell you, now is the time of God's favor, now is the day of salvation.
Paul's Hardships
3 We put no stumbling block in anyone's path,(D) so that our ministry will not be discredited. 4 Rather, as servants of God we commend ourselves in every way: in great endurance; in troubles, hardships and distresses; 5 in beatings, imprisonments(E) and riots; in hard work, sleepless nights and hunger;(F) 6 in purity, understanding, patience and kindness; in the Holy Spirit(G) and in sincere love;(H) 7 in truthful speech(I) and in the power of God;(J) with weapons of righteousness(K) in the right hand and in the left; 8 through glory and dishonor,(L) bad report(M) and good report; genuine, yet regarded as impostors;(N) 9 known, yet regarded as unknown; dying,(O) and yet we live on;(P) beaten, and yet not killed; 10 sorrowful, yet always rejoicing;(Q) poor, yet making many rich;(R) having nothing,(S) and yet possessing everything.(T)
Read full chapter
6 1 Since we work together with him, we are also begging you not to receive the grace of God in vain. 2 He says, I listened to you at the right time, and I helped you on the day of salvation.[a] Look, now is the right time! Look, now is the day of salvation!
3 We don't give anyone any reason to be offended about anything so that our ministry won't be criticized. 4 Instead, we commend ourselves as ministers of God in every way. We did this with our great endurance through problems, disasters, and stressful situations. 5 We went through beatings, imprisonments, and riots. We experienced hard work, sleepless nights, and hunger. 6 We displayed purity, knowledge, patience, and generosity. We served with the Holy Spirit, genuine love, 7 telling the truth, and God's power. We carried the weapons of righteousness in our right hand and our left hand. 8 We were treated with honor and dishonor and with verbal abuse and good evaluation. We were seen as both fake and real, 9 as unknown and well known, as dying—and look, we are alive! We were seen as punished but not killed, 10 as going through pain but always happy, as poor but making many rich, and as having nothing but owning everything.
Read full chapter
Good News Translation (GNT)
Copyright © 1992 by American Bible Society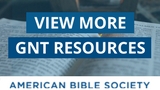 New International Version (NIV)
Holy Bible, New International Version®, NIV® Copyright ©1973, 1978, 1984, 2011 by Biblica, Inc.® Used by permission. All rights reserved worldwide.
NIV Reverse Interlinear Bible: English to Hebrew and English to Greek. Copyright © 2019 by Zondervan.