---
Contemporary English Version
33 but he did not destroy the local shrines.[a] So the people still worshiped foreign gods, instead of faithfully serving the God their ancestors had worshiped.
34 Everything else Jehoshaphat did while he was king is written in the records of Jehu son of Hanani that are included in The History of the Kings of Israel.
35 While Jehoshaphat was king, he signed a peace treaty with Ahaziah the wicked king of Israel.
Read full chapter
Footnotes
20.33 local shrines: See the note at 11.15.
New International Version
33 The high places,(A) however, were not removed, and the people still had not set their hearts on the God of their ancestors.
34 The other events of Jehoshaphat's reign, from beginning to end, are written in the annals of Jehu(B) son of Hanani, which are recorded in the book of the kings of Israel.
35 Later, Jehoshaphat king of Judah made an alliance(C) with Ahaziah king of Israel, whose ways were wicked.(D)
Read full chapter
Contemporary English Version (CEV)
Copyright © 1995 by American Bible Society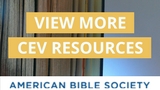 New International Version (NIV)
Holy Bible, New International Version®, NIV® Copyright ©1973, 1978, 1984, 2011 by Biblica, Inc.® Used by permission. All rights reserved worldwide.
NIV Reverse Interlinear Bible: English to Hebrew and English to Greek. Copyright © 2019 by Zondervan.