---
Hannah's Prayer of Praise
2 Then Hannah prayed:
11 Then Elkanah returned home to Ramah without Samuel. And the boy served the Lord by assisting Eli the priest.
Eli's Wicked Sons
12 Now the sons of Eli were scoundrels who had no respect for the Lord 13 or for their duties as priests. Whenever anyone offered a sacrifice, Eli's sons would send over a servant with a three-pronged fork. While the meat of the sacrificed animal was still boiling, 14 the servant would stick the fork into the pot and demand that whatever it brought up be given to Eli's sons. All the Israelites who came to worship at Shiloh were treated this way. 15 Sometimes the servant would come even before the animal's fat had been burned on the altar. He would demand raw meat before it had been boiled so that it could be used for roasting.
16 The man offering the sacrifice might reply, "Take as much as you want, but the fat must be burned first." Then the servant would demand, "No, give it to me now, or I'll take it by force." 17 So the sin of these young men was very serious in the Lord's sight, for they treated the Lord's offerings with contempt.
18 But Samuel, though he was only a boy, served the Lord. He wore a linen garment like that of a priest.[d] 19 Each year his mother made a small coat for him and brought it to him when she came with her husband for the sacrifice. 20 Before they returned home, Eli would bless Elkanah and his wife and say, "May the Lord give you other children to take the place of this one she gave to the Lord.[e]" 21 And the Lord blessed Hannah, and she conceived and gave birth to three sons and two daughters. Meanwhile, Samuel grew up in the presence of the Lord.
22 Now Eli was very old, but he was aware of what his sons were doing to the people of Israel. He knew, for instance, that his sons were seducing the young women who assisted at the entrance of the Tabernacle.[f] 23 Eli said to them, "I have been hearing reports from all the people about the wicked things you are doing. Why do you keep sinning? 24 You must stop, my sons! The reports I hear among the Lord's people are not good. 25 If someone sins against another person, God[g] can mediate for the guilty party. But if someone sins against the Lord, who can intercede?" But Eli's sons wouldn't listen to their father, for the Lord was already planning to put them to death.
26 Meanwhile, the boy Samuel grew taller and grew in favor with the Lord and with the people.
A Warning for Eli's Family
27 One day a man of God came to Eli and gave him this message from the Lord: "I revealed myself[h] to your ancestors when they were Pharaoh's slaves in Egypt. 28 I chose your ancestor Aaron[i] from among all the tribes of Israel to be my priest, to offer sacrifices on my altar, to burn incense, and to wear the priestly vest[j] as he served me. And I assigned the sacrificial offerings to you priests. 29 So why do you scorn my sacrifices and offerings? Why do you give your sons more honor than you give me—for you and they have become fat from the best offerings of my people Israel!
30 "Therefore, the Lord, the God of Israel, says: I promised that your branch of the tribe of Levi[k] would always be my priests. But I will honor those who honor me, and I will despise those who think lightly of me. 31 The time is coming when I will put an end to your family, so it will no longer serve as my priests. All the members of your family will die before their time. None will reach old age. 32 You will watch with envy as I pour out prosperity on the people of Israel. But no members of your family will ever live out their days. 33 The few not cut off from serving at my altar will survive, but only so their eyes can go blind and their hearts break, and their children will die a violent death.[l] 34 And to prove that what I have said will come true, I will cause your two sons, Hophni and Phinehas, to die on the same day!
35 "Then I will raise up a faithful priest who will serve me and do what I desire. I will establish his family, and they will be priests to my anointed kings forever. 36 Then all of your surviving family will bow before him, begging for money and food. 'Please,' they will say, 'give us jobs among the priests so we will have enough to eat.'"
Jesus Heals a Man Born Blind
9 As Jesus was walking along, he saw a man who had been blind from birth. 2 "Rabbi," his disciples asked him, "why was this man born blind? Was it because of his own sins or his parents' sins?"
3 "It was not because of his sins or his parents' sins," Jesus answered. "This happened so the power of God could be seen in him. 4 We must quickly carry out the tasks assigned us by the one who sent us.[a] The night is coming, and then no one can work. 5 But while I am here in the world, I am the light of the world."
6 Then he spit on the ground, made mud with the saliva, and spread the mud over the blind man's eyes. 7 He told him, "Go wash yourself in the pool of Siloam" (Siloam means "sent"). So the man went and washed and came back seeing!
8 His neighbors and others who knew him as a blind beggar asked each other, "Isn't this the man who used to sit and beg?" 9 Some said he was, and others said, "No, he just looks like him!"
But the beggar kept saying, "Yes, I am the same one!"
10 They asked, "Who healed you? What happened?"
11 He told them, "The man they call Jesus made mud and spread it over my eyes and told me, 'Go to the pool of Siloam and wash yourself.' So I went and washed, and now I can see!"
12 "Where is he now?" they asked.
"I don't know," he replied.
13 Then they took the man who had been blind to the Pharisees, 14 because it was on the Sabbath that Jesus had made the mud and healed him. 15 The Pharisees asked the man all about it. So he told them, "He put the mud over my eyes, and when I washed it away, I could see!"
16 Some of the Pharisees said, "This man Jesus is not from God, for he is working on the Sabbath." Others said, "But how could an ordinary sinner do such miraculous signs?" So there was a deep division of opinion among them.
17 Then the Pharisees again questioned the man who had been blind and demanded, "What's your opinion about this man who healed you?"
The man replied, "I think he must be a prophet."
18 The Jewish leaders still refused to believe the man had been blind and could now see, so they called in his parents. 19 They asked them, "Is this your son? Was he born blind? If so, how can he now see?"
20 His parents replied, "We know this is our son and that he was born blind, 21 but we don't know how he can see or who healed him. Ask him. He is old enough to speak for himself." 22 His parents said this because they were afraid of the Jewish leaders, who had announced that anyone saying Jesus was the Messiah would be expelled from the synagogue. 23 That's why they said, "He is old enough. Ask him."
24 So for the second time they called in the man who had been blind and told him, "God should get the glory for this,[b] because we know this man Jesus is a sinner."
25 "I don't know whether he is a sinner," the man replied. "But I know this: I was blind, and now I can see!"
26 "But what did he do?" they asked. "How did he heal you?"
27 "Look!" the man exclaimed. "I told you once. Didn't you listen? Why do you want to hear it again? Do you want to become his disciples, too?"
28 Then they cursed him and said, "You are his disciple, but we are disciples of Moses! 29 We know God spoke to Moses, but we don't even know where this man comes from."
30 "Why, that's very strange!" the man replied. "He healed my eyes, and yet you don't know where he comes from? 31 We know that God doesn't listen to sinners, but he is ready to hear those who worship him and do his will. 32 Ever since the world began, no one has been able to open the eyes of someone born blind. 33 If this man were not from God, he couldn't have done it."
34 "You were born a total sinner!" they answered. "Are you trying to teach us?" And they threw him out of the synagogue.
Spiritual Blindness
35 When Jesus heard what had happened, he found the man and asked, "Do you believe in the Son of Man?[c]"
36 The man answered, "Who is he, sir? I want to believe in him."
37 "You have seen him," Jesus said, "and he is speaking to you!"
38 "Yes, Lord, I believe!" the man said. And he worshiped Jesus.
39 Then Jesus told him,[d] "I entered this world to render judgment—to give sight to the blind and to show those who think they see[e] that they are blind."
40 Some Pharisees who were standing nearby heard him and asked, "Are you saying we're blind?"
41 "If you were blind, you wouldn't be guilty," Jesus replied. "But you remain guilty because you claim you can see.
New Living Translation (NLT)
Holy Bible, New Living Translation, copyright © 1996, 2004, 2015 by Tyndale House Foundation. Used by permission of Tyndale House Publishers, Inc., Carol Stream, Illinois 60188. All rights reserved.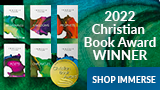 Bible Gateway Recommends
NLT Outreach Bible, Case of 18
Retail: $71.82
Our Price: $44.82
Save: $27.00 (38%)
NLT Super Giant Print Bible, Filament Enabled Edition (Red Letter, LeatherLike, Peony Rich Teal)
Retail: $59.99
Our Price: $39.99
Save: $20.00 (33%)
NLT Life Application Large-Print Study Bible, Third Edition--hardcover, red letter
Retail: $64.99
Our Price: $41.49
Save: $23.50 (36%)
NLT Giant-Print Personal-Size Bible, Filament Enabled Edition--soft leather-look, peony/pink
Retail: $29.99
Our Price: $21.99
Save: $8.00 (27%)

NLT Life Application Study Bible, Third Edition--soft leather-look, brown/tan (indexed) (red letter)
Retail: $84.99
Our Price: $62.99
Save: $22.00 (26%)

NLT Life Application Large-Print Study Bible, Third Edition--soft leather-look, teal (indexed)
Retail: $94.99
Our Price: $68.99
Save: $26.00 (27%)