---
Use Your Bodies for God's Glory
12 (A)Someone will say, "I am allowed to do anything." Yes; but not everything is good for you. I could say that I am allowed to do anything, but I am not going to let anything make me its slave. 13 Someone else will say, "Food is for the stomach, and the stomach is for food." Yes; but God will put an end to both. The body is not to be used for sexual immorality, but to serve the Lord; and the Lord provides for the body. 14 God raised the Lord from death, and he will also raise us by his power.
15 You know that your bodies are parts of the body of Christ. Shall I take a part of Christ's body and make it part of the body of a prostitute? Impossible! 16 (B)Or perhaps you don't know that the man who joins his body to a prostitute becomes physically one with her? The scripture says quite plainly, "The two will become one body." 17 But he who joins himself to the Lord becomes spiritually one with him.
18 Avoid immorality. Any other sin a man commits does not affect his body; but the man who is guilty of sexual immorality sins against his own body. 19 (C)Don't you know that your body is the temple of the Holy Spirit, who lives in you and who was given to you by God? You do not belong to yourselves but to God; 20 he bought you for a price. So use your bodies for God's glory.
Read full chapter
New International Version
Sexual Immorality
12 "I have the right to do anything," you say—but not everything is beneficial.(A) "I have the right to do anything"—but I will not be mastered by anything. 13 You say, "Food for the stomach and the stomach for food, and God will destroy them both."(B) The body, however, is not meant for sexual immorality but for the Lord,(C) and the Lord for the body. 14 By his power God raised the Lord from the dead,(D) and he will raise us also.(E) 15 Do you not know that your bodies are members of Christ himself?(F) Shall I then take the members of Christ and unite them with a prostitute? Never! 16 Do you not know that he who unites himself with a prostitute is one with her in body? For it is said, "The two will become one flesh."[a](G) 17 But whoever is united with the Lord is one with him in spirit.[b](H)
18 Flee from sexual immorality.(I) All other sins a person commits are outside the body, but whoever sins sexually, sins against their own body.(J) 19 Do you not know that your bodies are temples(K) of the Holy Spirit, who is in you, whom you have received from God? You are not your own;(L) 20 you were bought at a price.(M) Therefore honor God with your bodies.(N)
Read full chapter
12 Just because something is technically legal doesn't mean that it's spiritually appropriate. If I went around doing whatever I thought I could get by with, I'd be a slave to my whims.
13 You know the old saying, "First you eat to live, and then you live to eat"? Well, it may be true that the body is only a temporary thing, but that's no excuse for stuffing your body with food, or indulging it with sex. Since the Master honors you with a body, honor him with your body!
14-15 God honored the Master's body by raising it from the grave. He'll treat yours with the same resurrection power. Until that time, remember that your bodies are created with the same dignity as the Master's body. You wouldn't take the Master's body off to a whorehouse, would you? I should hope not.
16-20 There's more to sex than mere skin on skin. Sex is as much spiritual mystery as physical fact. As written in Scripture, "The two become one." Since we want to become spiritually one with the Master, we must not pursue the kind of sex that avoids commitment and intimacy, leaving us more lonely than ever—the kind of sex that can never "become one." There is a sense in which sexual sins are different from all others. In sexual sin we violate the sacredness of our own bodies, these bodies that were made for God-given and God-modeled love, for "becoming one" with another. Or didn't you realize that your body is a sacred place, the place of the Holy Spirit? Don't you see that you can't live however you please, squandering what God paid such a high price for? The physical part of you is not some piece of property belonging to the spiritual part of you. God owns the whole works. So let people see God in and through your body.
Read full chapter
Good News Translation (GNT)
Copyright © 1992 by American Bible Society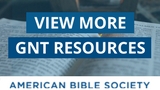 New International Version (NIV)
Holy Bible, New International Version®, NIV® Copyright ©1973, 1978, 1984, 2011 by Biblica, Inc.® Used by permission. All rights reserved worldwide.
NIV Reverse Interlinear Bible: English to Hebrew and English to Greek. Copyright © 2019 by Zondervan.