---
Amplified Bible, Classic Edition
6 I planted, Apollos watered, but God [all the while] was making it grow and [He] gave the increase.
7 So neither he who plants is anything nor he who waters, but [only] God Who makes it grow and become greater.
8 He who plants and he who waters are equal (one in aim, of the same importance and esteem), yet each shall receive his own reward (wages), according to his own labor.
9 For we are fellow workmen (joint promoters, laborers together) with and for God; you are God's [a]garden and vineyard and field under cultivation, [you are] God's building.(A)
Read full chapter
Amplified Bible, Classic Edition (AMPC)
Copyright © 1954, 1958, 1962, 1964, 1965, 1987 by The Lockman Foundation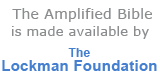 Bible Gateway Recommends
The Everyday Life Bible, Bonded Leather Bold Pink with Espresso Inset - Imperfectly Imprinted Bibles
Retail: $65.00
Our Price: $30.79
Save: $34.21 (53%)
Amplified & NKJV Parallel Bible Bonded Leather, Black, Large Print - Imperfectly Imprinted Bibles
Retail: $69.95
Our Price: $31.99
Save: $37.96 (54%)
Everyday Life Bible: The Power Of God's Word For Everyday Living, Imitation Leather, pink
Retail: $79.99
Our Price: $53.99
Save: $26.00 (33%)

Amplified Bible, Battlefield Of The Mind Bible, Imitation Leather, Blue
Retail: $79.99
Our Price: $53.99
Save: $26.00 (33%)
Amplified Large-Print Bible--bonded leather, burgundy
Retail: $69.99
Our Price: $45.99
Save: $24.00 (34%)

Battlefield of the Mind Bible, Amplified Version - Hardcover
Retail: $49.99
Our Price: $27.99
Save: $22.00 (44%)