---
9 For you remember, [a]believers, our labor and hardship. We worked night and day [practicing our trade] in order not to be a [financial] burden to any of you while we proclaimed the gospel of God to you. 10 You are witnesses, and so is God, how unworldly and just and blameless was our behavior toward you who believe [in our Lord Jesus Christ]. 11 For you know how we were exhorting and encouraging and imploring each one of you just as a father does [in dealing with] his own children, [guiding you]
Read full chapter
New International Version
9 Surely you remember, brothers and sisters, our toil and hardship; we worked(A) night and day in order not to be a burden to anyone(B) while we preached the gospel of God to you. 10 You are witnesses,(C) and so is God,(D) of how holy,(E) righteous and blameless we were among you who believed. 11 For you know that we dealt with each of you as a father deals with his own children,(F)
Read full chapter
9 For ye remember, brethren, our labour and travail: for labouring night and day, because we would not be chargeable unto any of you, we preached unto you the gospel of God.
10 Ye are witnesses, and God also, how holily and justly and unblameably we behaved ourselves among you that believe:
11 As ye know how we exhorted and comforted and charged every one of you, as a father doth his children,
Read full chapter
Amplified Bible (AMP)
Copyright © 2015 by The Lockman Foundation, La Habra, CA 90631. All rights reserved.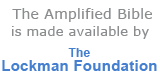 New International Version (NIV)
Holy Bible, New International Version®, NIV® Copyright ©1973, 1978, 1984, 2011 by Biblica, Inc.® Used by permission. All rights reserved worldwide.
NIV Reverse Interlinear Bible: English to Hebrew and English to Greek. Copyright © 2019 by Zondervan.