---
Amplified Bible, Classic Edition
5 I warn and counsel the elders among you (the pastors and spiritual guides of the church) as a fellow elder and as an eyewitness [called to testify] of the sufferings of Christ, as well as a sharer in the glory (the honor and splendor) that is to be revealed (disclosed, unfolded):
2 Tend (nurture, guard, guide, and fold) the flock of God that is [your responsibility], not by coercion or constraint, but willingly; not dishonorably motivated by the advantages and profits [belonging to the office], but eagerly and cheerfully;
3 Not domineering [as arrogant, dictatorial, and overbearing persons] over those in your charge, but being examples (patterns and models of Christian living) to the flock (the congregation).
4 And [then] when the Chief Shepherd is revealed, you will win the [a]conqueror's crown of glory.
5 Likewise, you who are younger and of lesser rank, be subject to the elders (the ministers and spiritual guides of the church)—[giving them due respect and yielding to their counsel]. Clothe (apron) yourselves, all of you, with humility [as the garb of a servant, [b]so that its covering cannot possibly be stripped from you, with freedom from pride and arrogance] toward one another. For God sets Himself against the proud (the insolent, the overbearing, the disdainful, the presumptuous, the boastful)—[and He opposes, frustrates, and defeats them], but gives grace (favor, blessing) to the humble.(A)
6 Therefore humble yourselves [demote, lower yourselves in your own estimation] under the mighty hand of God, that in due time He may exalt you,
7 Casting the [c]whole of your care [all your anxieties, all your worries, all your concerns, [d]once and for all] on Him, for He cares for you affectionately and cares about you [e]watchfully.(B)
8 Be well balanced (temperate, sober of mind), be vigilant and cautious at all times; for that enemy of yours, the devil, roams around like a lion roaring [[f]in fierce hunger], seeking someone to seize upon and devour.
9 Withstand him; be firm in faith [against his onset—rooted, established, strong, immovable, and determined], knowing that the same ([g]identical) sufferings are appointed to your brotherhood (the whole body of Christians) throughout the world.
10 And after you have suffered a little while, the God of all grace [Who imparts all blessing and favor], Who has called you to His [own] eternal glory in Christ Jesus, will Himself complete and make you what you ought to be, establish and ground you securely, and strengthen, and settle you.
11 To Him be the dominion (power, authority, rule) forever and ever. Amen (so be it).
12 By Silvanus, a true (loyal, consistent, incorruptible) brother, as I consider him, I have written briefly to you, to counsel and urge and stimulate [you] and to declare [to you] that this is the true [account of the] grace (the undeserved favor) of God. Be steadfast and persevere in it.
13 She [your sister church here] in Babylon, [who is] elect (chosen) with [yourselves], sends you greetings, and [so does] my son (disciple) Mark.
14 Salute one another with a kiss of love [the symbol of mutual affection]. To all of you that are in Christ Jesus (the Messiah), may there be peace ([h]every kind of peace and blessing, especially peace with God, and [i] freedom from fears, agitating passions, and moral conflicts). Amen (so be it).
New International Version
To the Elders and the Flock
5 To the elders among you, I appeal as a fellow elder(A) and a witness(B) of Christ's sufferings who also will share in the glory to be revealed:(C) 2 Be shepherds of God's flock(D) that is under your care, watching over them—not because you must, but because you are willing, as God wants you to be;(E) not pursuing dishonest gain,(F) but eager to serve; 3 not lording it over(G) those entrusted to you, but being examples(H) to the flock. 4 And when the Chief Shepherd(I) appears, you will receive the crown of glory(J) that will never fade away.(K)
5 In the same way, you who are younger, submit yourselves(L) to your elders. All of you, clothe yourselves with humility(M) toward one another, because,
6 Humble yourselves, therefore, under God's mighty hand, that he may lift you up in due time.(O) 7 Cast all your anxiety on him(P) because he cares for you.(Q)
8 Be alert and of sober mind.(R) Your enemy the devil prowls around(S) like a roaring lion(T) looking for someone to devour. 9 Resist him,(U) standing firm in the faith,(V) because you know that the family of believers throughout the world is undergoing the same kind of sufferings.(W)
10 And the God of all grace, who called you(X) to his eternal glory(Y) in Christ, after you have suffered a little while,(Z) will himself restore you and make you strong,(AA) firm and steadfast. 11 To him be the power for ever and ever. Amen.(AB)
Final Greetings
12 With the help of Silas,[b](AC) whom I regard as a faithful brother, I have written to you briefly,(AD) encouraging you and testifying that this is the true grace of God. Stand fast in it.(AE)
13 She who is in Babylon, chosen together with you, sends you her greetings, and so does my son Mark.(AF) 14 Greet one another with a kiss of love.(AG)
Peace(AH) to all of you who are in Christ.
Amplified Bible, Classic Edition (AMPC)
Copyright © 1954, 1958, 1962, 1964, 1965, 1987 by The Lockman Foundation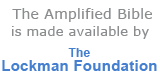 New International Version (NIV)
Holy Bible, New International Version®, NIV® Copyright ©1973, 1978, 1984, 2011 by Biblica, Inc.® Used by permission. All rights reserved worldwide.
NIV Reverse Interlinear Bible: English to Hebrew and English to Greek. Copyright © 2019 by Zondervan.