---
26 So now, O God of Israel, let everything come true that you promised to my father David, your servant.
27 (A)"But can you, O God, really live on earth? Not even all of heaven is large enough to hold you, so how can this Temple that I have built be large enough? 28 Lord my God, I am your servant. Listen to my prayer, and grant the requests I make to you today.
Read full chapter
New International Version
26 And now, God of Israel, let your word that you promised(A) your servant David my father come true.
27 "But will God really dwell(B) on earth? The heavens, even the highest heaven,(C) cannot contain(D) you. How much less this temple I have built! 28 Yet give attention to your servant's prayer and his plea for mercy, Lord my God. Hear the cry and the prayer that your servant is praying in your presence this day.
Read full chapter
Good News Translation (GNT)
Copyright © 1992 by American Bible Society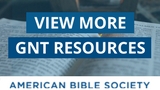 New International Version (NIV)
Holy Bible, New International Version®, NIV® Copyright ©1973, 1978, 1984, 2011 by Biblica, Inc.® Used by permission. All rights reserved worldwide.
NIV Reverse Interlinear Bible: English to Hebrew and English to Greek. Copyright © 2019 by Zondervan.