---
Amplified Bible, Classic Edition
22 On the tops of the pillars was lily work [design]. So the work of the pillars was finished.
23 He made a round molten Sea, ten cubits from brim to brim, five cubits high and thirty cubits in circumference.(A)
24 Under its brim were gourds encircling the Sea, ten to a cubit; the gourds were in two rows, cast in one piece with it.
Read full chapter
New International Version
22 The capitals on top were in the shape of lilies. And so the work on the pillars(A) was completed.
23 He made the Sea(B) of cast metal, circular in shape, measuring ten cubits from rim to rim and five cubits high. It took a line(C) of thirty cubits[a] to measure around it. 24 Below the rim, gourds encircled it—ten to a cubit. The gourds were cast in two rows in one piece with the Sea.
Read full chapter
Footnotes
1 Kings 7:23 That is, about 45 feet or about 14 meters
Amplified Bible, Classic Edition (AMPC)
Copyright © 1954, 1958, 1962, 1964, 1965, 1987 by The Lockman Foundation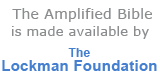 New International Version (NIV)
Holy Bible, New International Version®, NIV® Copyright ©1973, 1978, 1984, 2011 by Biblica, Inc.® Used by permission. All rights reserved worldwide.
NIV Reverse Interlinear Bible: English to Hebrew and English to Greek. Copyright © 2019 by Zondervan.