---
9 Now in the letters she wrote, "Proclaim a [a]fast and seat Naboth at the head of the people; 10 and seat two worthless and unprincipled men opposite him, and have them testify against him, saying, 'You [b]cursed God and the king.' Then take him out and stone him to death."
Jezebel's Plot
11 So the men of his city, the elders and the nobles who lived there, did as Jezebel had sent word to them, just as it was written in the letters which she had sent to them.
Read full chapter
Footnotes
1 Kings 21:9 The point of the fast was to display grief and humility toward God over a grave sin that had been committed, usually when famine or another disaster had occurred as judgment from God for the sin. So Jezebel's plot not only included the judicial murder of an innocent man; it was a direct affront and challenge to God.
1 Kings 21:10 Lit blessed. This word is used here and in v 13 as a euphemism referring to cursing, to avoid actually uttering a curse against God, even when it is placed in the mouth of someone else.
New International Version
9 In those letters she wrote:
"Proclaim a day of fasting and seat Naboth in a prominent place among the people. 10 But seat two scoundrels(A) opposite him and have them bring charges that he has cursed(B) both God and the king. Then take him out and stone him to death."
11 So the elders and nobles who lived in Naboth's city did as Jezebel directed in the letters she had written to them.
Read full chapter
Amplified Bible (AMP)
Copyright © 2015 by The Lockman Foundation, La Habra, CA 90631. All rights reserved.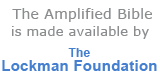 New International Version (NIV)
Holy Bible, New International Version®, NIV® Copyright ©1973, 1978, 1984, 2011 by Biblica, Inc.® Used by permission. All rights reserved worldwide.
NIV Reverse Interlinear Bible: English to Hebrew and English to Greek. Copyright © 2019 by Zondervan.