---
Contemporary English Version
18 When Asa heard about this, he took the silver and gold from his palace and from the Lord's temple. He gave it to some of his officials and sent them to Damascus with this message for King Benhadad[a] of Syria: 19 "Our fathers signed a peace treaty. Why don't we do the same thing? This silver and gold is a present for you. So, would you please break your treaty with Baasha and force him to leave my country?"
20 Benhadad did what Asa asked and sent the Syrian army into Israel. They captured the towns of Ijon, Dan, and Abel-Bethmaacah, and the territories of Chinneroth and Naphtali.
Read full chapter
Footnotes
15.18 Benhadad: Hebrew "Benhadad son of Tabrimmon son of Hezion."
New International Version
18 Asa then took all the silver and gold that was left in the treasuries of the Lord's temple(A) and of his own palace. He entrusted it to his officials and sent(B) them to Ben-Hadad(C) son of Tabrimmon, the son of Hezion, the king of Aram, who was ruling in Damascus. 19 "Let there be a treaty(D) between me and you," he said, "as there was between my father and your father. See, I am sending you a gift of silver and gold. Now break your treaty with Baasha king of Israel so he will withdraw from me."
20 Ben-Hadad agreed with King Asa and sent the commanders of his forces against the towns of Israel. He conquered(E) Ijon, Dan, Abel Beth Maakah and all Kinnereth in addition to Naphtali.
Read full chapter
Contemporary English Version (CEV)
Copyright © 1995 by American Bible Society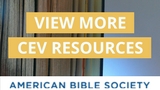 New International Version (NIV)
Holy Bible, New International Version®, NIV® Copyright ©1973, 1978, 1984, 2011 by Biblica, Inc.® Used by permission. All rights reserved worldwide.
NIV Reverse Interlinear Bible: English to Hebrew and English to Greek. Copyright © 2019 by Zondervan.