The Bible Gateway App has recently been upgraded to a fresh, new look. This update also comes with some exciting new features, one of which is the addition of the downloadable New Revised Standard Version, along with all its various editions. This includes:
The New Revised Standard Version of the Bible was published in 1989 and has received the widest acclaim and broadest support from academics and church leaders of any modern English translation. This ecumenical set of translations—which includes the Anglicised (NRSVA) and the Catholic Editions (NRSVCE, RSVCE)—expresses the simplicity and dignity of King James prose with grammatical and scholarly revisions that are right for today.
If you'd like to read the NRSV or RSV translations with your Bible Gateway app offline, you can download them and read them anywhere you go! Here's a quick guide on how to do that:
Step 1: Navigate to the menu bar and tap the Bible icon.
Open your Bible Gateway app and tap the menu icon in the top left. From there you can navigate to the Bible view.
Step 2: Select a translation.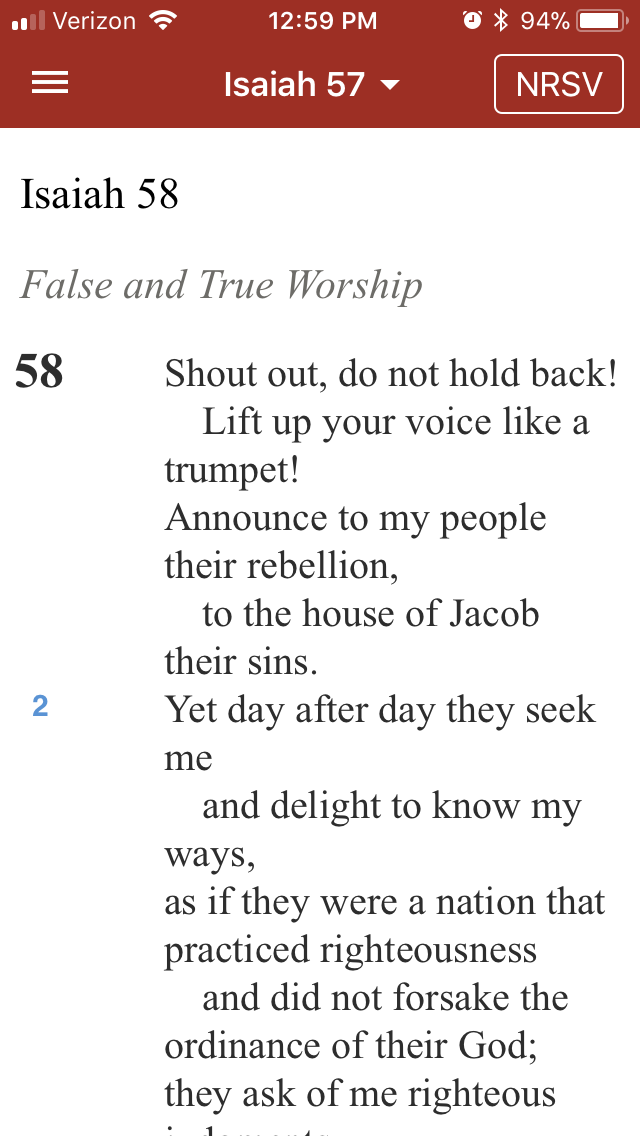 From the Bible text view, you can select the translation you want using the box on the top right. In the example above, it says NRSV because that translation has already been selected.
Step 3: Tap the Download Arrow beside the translation.
Scroll down to the NRSV (or whichever translation you'd like to download) and tap the blue download arrow next to it. Feel free to explore and find other translations that have the downloadable capability! (Note: in the example above, the New Revised Standard has already been downloaded on to this device, which is why you see the open book icon instead.)
Step 4: Download and start reading!

When you click the download arrow, you'll be brought to an information page about that translation. Simply toggle the publisher email permission slider and tap "Download Now," and you're good to go! Enjoy reading Scripture wherever you are.
And if you don't already have the Bible Gateway App, you can download it on iOS, Android, or Kindle devices here. It's free, and it's one of the best ways to ensure that Scripture is within your reach all the time.