---
9 But now you have tossed us aside in dishonor.
You no longer lead our armies to battle.
10 You make us retreat from our enemies
and allow those who hate us to plunder our land.
11 You have butchered us like sheep
and scattered us among the nations.
12 You sold your precious people for a pittance,
making nothing on the sale.
13 You let our neighbors mock us.
We are an object of scorn and derision to those around us.
14 You have made us the butt of their jokes;
they shake their heads at us in scorn.
15 We can't escape the constant humiliation;
shame is written across our faces.
16 All we hear are the taunts of our mockers.
All we see are our vengeful enemies.
17 All this has happened though we have not forgotten you.
We have not violated your covenant.
18 Our hearts have not deserted you.
We have not strayed from your path.
19 Yet you have crushed us in the jackal's desert home.
You have covered us with darkness and death.
20 If we had forgotten the name of our God
or spread our hands in prayer to foreign gods,
21 God would surely have known it,
for he knows the secrets of every heart.
22 But for your sake we are killed every day;
we are being slaughtered like sheep.
23 Wake up, O Lord! Why do you sleep?
Get up! Do not reject us forever.
24 Why do you look the other way?
Why do you ignore our suffering and oppression?
25 We collapse in the dust,
lying face down in the dirt.
26 Rise up! Help us!
Ransom us because of your unfailing love.
Read full chapter
New Living Translation (NLT)
Holy Bible, New Living Translation, copyright © 1996, 2004, 2015 by Tyndale House Foundation. Used by permission of Tyndale House Publishers, Inc., Carol Stream, Illinois 60188. All rights reserved.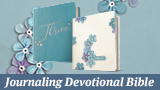 Bible Gateway Recommends
NLT The Life Recovery Bible, Softcover
Retail: $24.99
Our Price: $15.99
Save: $9.00 (36%)
NLT Life Application Large-Print Study Bible, Third Edition--soft leather-look, teal (indexed)
Retail: $94.99
Our Price: $61.99
Save: $33.00 (35%)
NLT Life Application Study Bible, Third Edition--Value Edition, Black Genuine Leather
Retail: $99.99
Our Price: $54.99
Save: $45.00 (45%)
NLT Life Application Study Bible, Third Edition--soft leather-look, purple
Retail: $74.99
Our Price: $44.99
Save: $30.00 (40%)

My First Hands-on Bible--soft leather-look, pretty pink
Retail: $19.99
Our Price: $11.99
Save: $8.00 (40%)
NLT Life Application Large-Print Study Bible, Third Edition--soft leather-look, brown, tan, red letter (indexed)
Retail: $94.99
Our Price: $56.99
Save: $38.00 (40%)