---
More Sayings of the Wise
23 Here are some further sayings of the wise:
It is wrong to show favoritism when passing judgment.
24 A judge who says to the wicked, "You are innocent,"
will be cursed by many people and denounced by the nations.
25 But it will go well for those who convict the guilty;
rich blessings will be showered on them.
26 An honest answer
is like a kiss of friendship.
27 Do your planning and prepare your fields
before building your house.
28 Don't testify against your neighbors without cause;
don't lie about them.
29 And don't say, "Now I can pay them back for what they've done to me!
I'll get even with them!"
30 I walked by the field of a lazy person,
the vineyard of one with no common sense.
31 I saw that it was overgrown with nettles.
It was covered with weeds,
and its walls were broken down.
32 Then, as I looked and thought about it,
I learned this lesson:
33 A little extra sleep, a little more slumber,
a little folding of the hands to rest—
34 then poverty will pounce on you like a bandit;
scarcity will attack you like an armed robber.
Read full chapter
New Living Translation (NLT)
Holy Bible, New Living Translation, copyright © 1996, 2004, 2015 by Tyndale House Foundation. Used by permission of Tyndale House Publishers, Inc., Carol Stream, Illinois 60188. All rights reserved.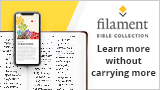 Bible Gateway Recommends
NLT Inspire Bible: The Bible for Creative Journaling, LeatherLike, Silky Vintage Blue/Cream
Retail: $49.99
Our Price: $31.49
Save: $18.50 (37%)
NLT Life Application Large-Print Study Bible, Third Edition--soft leather-look, teal (indexed)
Retail: $94.99
Our Price: $56.99
Save: $38.00 (40%)
NLT Holy Bible, Giant Print, Black Imitation Leather
Retail: $39.99
Our Price: $29.99
Save: $10.00 (25%)

Contemporary Comparative Side-by-Side Bible (NIV, NKJV, NLT, THE Message)
Retail: $59.99
Our Price: $35.99
Save: $24.00 (40%)
NLT Wayfinding Bible, leatherlike teal
Retail: $54.99
Our Price: $21.99
Save: $33.00 (60%)
My First Hands-on Bible--soft leather-look, pretty pink
Retail: $19.99
Our Price: $13.49
Save: $6.50 (33%)