---
23 Abraham approached him and said, "Will you sweep away both the righteous and the wicked? 24 Suppose you find fifty righteous people living there in the city—will you still sweep it away and not spare it for their sakes? 25 Surely you wouldn't do such a thing, destroying the righteous along with the wicked. Why, you would be treating the righteous and the wicked exactly the same! Surely you wouldn't do that! Should not the Judge of all the earth do what is right?"
26 And the Lord replied, "If I find fifty righteous people in Sodom, I will spare the entire city for their sake."
27 Then Abraham spoke again. "Since I have begun, let me speak further to my Lord, even though I am but dust and ashes. 28 Suppose there are only forty-five righteous people rather than fifty? Will you destroy the whole city for lack of five?"
And the Lord said, "I will not destroy it if I find forty-five righteous people there."
29 Then Abraham pressed his request further. "Suppose there are only forty?"
And the Lord replied, "I will not destroy it for the sake of the forty."
30 "Please don't be angry, my Lord," Abraham pleaded. "Let me speak—suppose only thirty righteous people are found?"
And the Lord replied, "I will not destroy it if I find thirty."
31 Then Abraham said, "Since I have dared to speak to the Lord, let me continue—suppose there are only twenty?"
And the Lord replied, "Then I will not destroy it for the sake of the twenty."
32 Finally, Abraham said, "Lord, please don't be angry with me if I speak one more time. Suppose only ten are found there?"
And the Lord replied, "Then I will not destroy it for the sake of the ten."
33 When the Lord had finished his conversation with Abraham, he went on his way, and Abraham returned to his tent.
Read full chapter
New Living Translation (NLT)
Holy Bible, New Living Translation, copyright © 1996, 2004, 2015 by Tyndale House Foundation. Used by permission of Tyndale House Publishers, Inc., Carol Stream, Illinois 60188. All rights reserved.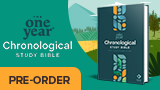 Bible Gateway Recommends
NLT Life Application Large-Print Study Bible, Third Edition--soft leather-look, black/onyx (indexed)
Retail: $94.99
Our Price: $69.99
Save: $25.00 (26%)
NLT Premium Gift Bible Imitation Leather, purple petals
Retail: $15.99
Our Price: $11.99
Save: $4.00 (25%)

NLT Life Recovery Bible, Large Print
Retail: $34.99
Our Price: $27.99
Save: $7.00 (20%)
NLT New Spirit Filled Life Bible, Imitation Leather, Rich Stone
Retail: $79.99
Our Price: $49.99
Save: $30.00 (38%)
NLT Large-Print Life Application Study Bible, Third Edition--genuine leather, brown (indexed)
Retail: $129.99
Our Price: $81.99
Save: $48.00 (37%)
NLT Compact Giant Print Bible, Filament Enabled Edition (Red Letter, LeatherLike, Peony Rich Teal)
Retail: $34.99
Our Price: $20.99
Save: $14.00 (40%)