---
Nathan Rebukes David
12 So the Lord sent Nathan the prophet to tell David this story: "There were two men in a certain town. One was rich, and one was poor. 2 The rich man owned a great many sheep and cattle. 3 The poor man owned nothing but one little lamb he had bought. He raised that little lamb, and it grew up with his children. It ate from the man's own plate and drank from his cup. He cuddled it in his arms like a baby daughter. 4 One day a guest arrived at the home of the rich man. But instead of killing an animal from his own flock or herd, he took the poor man's lamb and killed it and prepared it for his guest."
5 David was furious. "As surely as the Lord lives," he vowed, "any man who would do such a thing deserves to die! 6 He must repay four lambs to the poor man for the one he stole and for having no pity."
7 Then Nathan said to David, "You are that man! The Lord, the God of Israel, says: I anointed you king of Israel and saved you from the power of Saul. 8 I gave you your master's house and his wives and the kingdoms of Israel and Judah. And if that had not been enough, I would have given you much, much more. 9 Why, then, have you despised the word of the Lord and done this horrible deed? For you have murdered Uriah the Hittite with the sword of the Ammonites and stolen his wife. 10 From this time on, your family will live by the sword because you have despised me by taking Uriah's wife to be your own.
11 "This is what the Lord says: Because of what you have done, I will cause your own household to rebel against you. I will give your wives to another man before your very eyes, and he will go to bed with them in public view. 12 You did it secretly, but I will make this happen to you openly in the sight of all Israel."
David Confesses His Guilt
13 Then David confessed to Nathan, "I have sinned against the Lord."
Nathan replied, "Yes, but the Lord has forgiven you, and you won't die for this sin. 14 Nevertheless, because you have shown utter contempt for the word of the Lord[a] by doing this, your child will die."
15 After Nathan returned to his home, the Lord sent a deadly illness to the child of David and Uriah's wife.
Read full chapter
Footnotes
12:14 As in Dead Sea Scrolls; Masoretic Text reads the enemies of the Lord.
New Living Translation (NLT)
Holy Bible, New Living Translation, copyright © 1996, 2004, 2015 by Tyndale House Foundation. Used by permission of Tyndale House Publishers, Inc., Carol Stream, Illinois 60188. All rights reserved.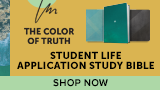 Bible Gateway Recommends
NLT Life Recovery Bible, Personal Size
Retail: $22.99
Our Price: $16.99
Save: $6.00 (26%)

NLT Teen Life Application Study Bible, Softcover
Retail: $22.99
Our Price: $18.99
Save: $4.00 (17%)
NLT Life Application Large-Print Study Bible, Third Edition--hardcover, red letter
Retail: $64.99
Our Price: $47.99
Save: $17.00 (26%)
My First Hands-on Bible--soft leather-look, bold blue
Retail: $19.99
Our Price: $15.99
Save: $4.00 (20%)
NLT Giant-Print Personal-Size Bible, Filament Enabled Edition--soft leather-look, floral frame teal
Retail: $39.99
Our Price: $22.99
Save: $17.00 (43%)

Contemporary Comparative Parallel Bible (NIV, NKJV, NLT, The Message)
Retail: $59.99
Our Price: $36.99
Save: $23.00 (38%)