---
Elisha and the Woman from Shunem
8 One day Elisha went to the town of Shunem. A wealthy woman lived there, and she urged him to come to her home for a meal. After that, whenever he passed that way, he would stop there for something to eat.
9 She said to her husband, "I am sure this man who stops in from time to time is a holy man of God. 10 Let's build a small room for him on the roof and furnish it with a bed, a table, a chair, and a lamp. Then he will have a place to stay whenever he comes by."
11 One day Elisha returned to Shunem, and he went up to this upper room to rest. 12 He said to his servant Gehazi, "Tell the woman from Shunem I want to speak to her." When she appeared, 13 Elisha said to Gehazi, "Tell her, 'We appreciate the kind concern you have shown us. What can we do for you? Can we put in a good word for you to the king or to the commander of the army?'"
"No," she replied, "my family takes good care of me."
14 Later Elisha asked Gehazi, "What can we do for her?"
Gehazi replied, "She doesn't have a son, and her husband is an old man."
15 "Call her back again," Elisha told him. When the woman returned, Elisha said to her as she stood in the doorway, 16 "Next year at this time you will be holding a son in your arms!"
"No, my lord!" she cried. "O man of God, don't deceive me and get my hopes up like that."
17 But sure enough, the woman soon became pregnant. And at that time the following year she had a son, just as Elisha had said.
Read full chapter
New Living Translation (NLT)
Holy Bible, New Living Translation, copyright © 1996, 2004, 2015 by Tyndale House Foundation. Used by permission of Tyndale House Publishers, Inc., Carol Stream, Illinois 60188. All rights reserved.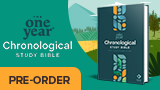 Bible Gateway Recommends
NLT Large-Print Premium Value Thinline Bible, Filament Enabled Edition--soft leather-look, teal
Retail: $22.99
Our Price: $15.99
Save: $7.00 (30%)
NLT Life Application Large-Print Study Bible, Third Edition--soft leather-look, brown, mahogan, red letter (indexed)
Retail: $94.99
Our Price: $61.49
Save: $33.50 (35%)
NLT Large-Print Life Application Study Bible, Third Edition--genuine leather, brown (indexed)
Retail: $129.99
Our Price: $81.99
Save: $48.00 (37%)
The NLT Spiritual Growth Bible Pink Faux Leather
Retail: $49.99
Our Price: $34.99
Save: $15.00 (30%)
NLT Premium Value Thinline Bible, Filament Enabled Edition-- soft leather-look, brown
Retail: $17.99
Our Price: $12.49
Save: $5.50 (31%)
NLT Life Recovery Bible, Large Print
Retail: $34.99
Our Price: $27.99
Save: $7.00 (20%)