---
8 But what does it say? "The word is near you, in your mouth and in your heart"—that is, the word [the message, the basis] of faith which we preach—(A) 9 because if you acknowledge and confess with your mouth that Jesus is Lord [recognizing His power, authority, and majesty as God], and believe in your heart that God raised Him from the dead, you will be saved. 10 For with the heart a person believes [in Christ as Savior] resulting in his justification [that is, being made righteous—being freed of the guilt of sin and made acceptable to God]; and with the mouth he acknowledges and confesses [his faith openly], resulting in and confirming [his] salvation. 11 For the Scripture says, "Whoever believes in Him [whoever adheres to, trusts in, and relies on Him] will not be disappointed [in his expectations]."(B) 12 For there is no distinction between Jew and Gentile; for the same Lord is Lord over all [of us], and [He is] abounding in riches (blessings) for all who call on Him [in faith and prayer]. 13 For "whoever calls on the name of the Lord [in prayer] will be saved."(C)
Read full chapter
8 But what does it say? (A)"The word is near you, in your mouth and in your heart" (that is, the word of faith which we preach): 9 that (B)if you confess with your mouth the Lord Jesus and believe in your heart that God has raised Him from the dead, you will be saved. 10 For with the heart one believes unto righteousness, and with the mouth confession is made unto salvation. 11 For the Scripture says, (C)"Whoever believes on Him will not be put to shame." 12 For (D)there is no distinction between Jew and Greek, for (E)the same Lord over all (F)is rich to all who call upon Him. 13 For (G)"whoever calls (H)on the name of the Lord shall be saved."
Read full chapter
8 But what saith it? The word is nigh thee, even in thy mouth, and in thy heart: that is, the word of faith, which we preach;
9 That if thou shalt confess with thy mouth the Lord Jesus, and shalt believe in thine heart that God hath raised him from the dead, thou shalt be saved.
10 For with the heart man believeth unto righteousness; and with the mouth confession is made unto salvation.
11 For the scripture saith, Whosoever believeth on him shall not be ashamed.
12 For there is no difference between the Jew and the Greek: for the same Lord over all is rich unto all that call upon him.
13 For whosoever shall call upon the name of the Lord shall be saved.
Read full chapter
Amplified Bible (AMP)
Copyright © 2015 by The Lockman Foundation, La Habra, CA 90631. All rights reserved.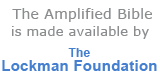 New King James Version (NKJV)
Scripture taken from the New King James Version®. Copyright © 1982 by Thomas Nelson. Used by permission. All rights reserved.