---
17 He who has an ear, let him hear and heed what the Spirit says to the churches. To him who overcomes [the world through believing that Jesus is the Son of God], to him I will give [the privilege of eating] some of the [a]hidden manna, and I will give him a [b]white stone with a new name engraved on the stone which no one knows except the one who receives it.'(A)
Read full chapter
Footnotes
Revelation 2:17 This probably refers to the pot of manna placed in the Ark of the Covenant by Moses (Ex 16:33; Heb 9:4). Manna was a food supernaturally provided to Israel by God during their wanderings in the wilderness after the exodus from Egypt.
Revelation 2:17 White stones were sometimes used as tickets of admission to public assemblies. Here the white stone may symbolize admission to the Messiah's banquet.
Amplified Bible, Classic Edition
17 He who is able to hear, let him listen to and heed what the Spirit says to the assemblies (churches). To him who overcomes (conquers), I will give to eat of the manna that is hidden, and I will give him a white stone with a new name engraved on the stone, which no one knows or understands except he who receives it.(A)
Read full chapter
Amplified Bible (AMP)
Copyright © 2015 by The Lockman Foundation, La Habra, CA 90631. All rights reserved.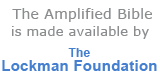 Amplified Bible, Classic Edition (AMPC)
Copyright © 1954, 1958, 1962, 1964, 1965, 1987 by The Lockman Foundation