---
Psalm 110
A psalm of David.
1 The Lord said to my Lord,[a]
"Sit in the place of honor at my right hand
until I humble your enemies,
making them a footstool under your feet."
2 The Lord will extend your powerful kingdom from Jerusalem[b];
you will rule over your enemies.
3 When you go to war,
your people will serve you willingly.
You are arrayed in holy garments,
and your strength will be renewed each day like the morning dew.
4 The Lord has taken an oath and will not break his vow:
"You are a priest forever in the order of Melchizedek."
5 The Lord stands at your right hand to protect you.
He will strike down many kings when his anger erupts.
6 He will punish the nations
and fill their lands with corpses;
he will shatter heads over the whole earth.
7 But he himself will be refreshed from brooks along the way.
He will be victorious.
Nueva Traducción Viviente
Salmo de David.
110 El Señor le dijo a mi Señor:[a]
«Siéntate en el lugar de honor a mi derecha,
hasta que humille a tus enemigos
y los ponga por debajo de tus pies».
2 El Señor extenderá tu poderoso reino desde Jerusalén,[b]
y gobernarás a tus enemigos.
3 Cuando vayas a la guerra,
tu pueblo te servirá por voluntad propia.
Estás envuelto en vestiduras santas,
y tu fuerza se renovará cada día como el rocío de la mañana.
4 El Señor ha hecho un juramento y no romperá su promesa:
«Tú eres sacerdote para siempre, según el orden de Melquisedec».
5 El Señor está a tu derecha para protegerte;
derribará a muchos reyes cuando estalle su enojo.
6 Castigará a las naciones
y llenará de cadáveres sus territorios;
destrozará cabezas por toda la tierra.
7 Pero él se refrescará en los arroyos junto al camino.
Saldrá vencedor.
New Living Translation (NLT)
Holy Bible, New Living Translation, copyright © 1996, 2004, 2015 by Tyndale House Foundation. Used by permission of Tyndale House Publishers, Inc., Carol Stream, Illinois 60188. All rights reserved.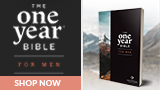 Nueva Traducción Viviente (NTV)
La Santa Biblia, Nueva Traducción Viviente, © Tyndale House Foundation, 2010. Todos los derechos reservados.