---
65 1-2 Silence is praise to you,
Zion-dwelling God,
And also obedience.
You hear the prayer in it all.
2-8 We all arrive at your doorstep sooner
or later, loaded with guilt,
Our sins too much for us—
but you get rid of them once and for all.
Blessed are the chosen! Blessed the guest
at home in your place!
We expect our fill of good things
in your house, your heavenly manse.
All your salvation wonders
are on display in your trophy room.
Earth-Tamer, Ocean-Pourer,
Mountain-Maker, Hill-Dresser,
Muzzler of sea storm and wave crash,
of mobs in noisy riot—
Far and wide they'll come to a stop,
they'll stare in awe, in wonder.
Dawn and dusk take turns
calling, "Come and worship."
9-13 Oh, visit the earth,
ask her to join the dance!
Deck her out in spring showers,
fill the God-River with living water.
Paint the wheat fields golden.
Creation was made for this!
Drench the plowed fields,
soak the dirt clods
With rainfall as harrow and rake
bring her to blossom and fruit.
Snow-crown the peaks with splendor,
scatter rose petals down your paths,
All through the wild meadows, rose petals.
Set the hills to dancing,
Dress the canyon walls with live sheep,
a drape of flax across the valleys.
Let them shout, and shout, and shout!
Oh, oh, let them sing!
New International Reader's Version
Psalm 65
For the director of music. A psalm of David. A song.
1 Our God, we look forward to praising you in Zion.
We will keep our promises to you.
2 All people will come to you,
because you hear and answer prayer.
3 When our sins became too much for us,
you forgave our lawless acts.
4 Blessed are those you choose
and bring near to worship you.
You bring us into the courtyards of your holy temple.
There in your house we are filled with all kinds of good things.
5 God our Savior, you answer us with right and wonderful deeds.
People all over the world and beyond the farthest oceans
put their hope in you.
6 You formed the mountains by your power.
You showed how strong you are.
7 You calmed the oceans and their roaring waves.
You calmed the angry words and actions of the nations.
8 Everyone on earth is amazed at the wonderful things you have done.
What you do makes people from one end of the earth to the other sing for joy.
9 You take care of the land and water it.
You make it able to grow many crops.
You fill your streams with water.
You do that to provide the people with grain.
That's what you have decided to do for the land.
10 You water its rows.
You smooth out its bumps.
You soften it with showers.
And you bless its crops.
11 You bring the year to a close with huge crops.
You provide more than enough food.
12 The grass grows thick even in the desert.
The hills are dressed with gladness.
13 The meadows are covered with flocks and herds.
The valleys are dressed with grain.
They sing and shout for joy.
65 1-2 O God in Zion, we wait before you in silent praise, and thus fulfill our vow. And because you answer prayer, all mankind will come to you with their requests. 3 Though sins fill our hearts, you forgive them all. 4 How greatly to be envied are those you have chosen to come and live with you within the holy tabernacle courts! What joys await us among all the good things there. 5 With dread deeds and awesome power you will defend us from our enemies,[a] O God who saves us. You are the only hope of all mankind throughout the world and far away upon the sea.
6 He formed the mountains by his mighty strength. 7 He quiets the raging oceans and all the world's clamor. 8 In the farthest corners of the earth the glorious acts of God shall startle everyone. The dawn and sunset shout for joy! 9 He waters the earth to make it fertile. The rivers of God will not run dry! He prepares the earth for his people and sends them rich harvests of grain. 10 He waters the furrows with abundant rain. Showers soften the earth, melting the clods and causing seeds to sprout across the land. 11-12 Then he crowns it all with green, lush pastures in the wilderness; hillsides blossom with joy. 13 The pastures are filled with flocks of sheep, and the valleys are carpeted with grain. All the world shouts with joy and sings.
Footnotes
Psalm 65:5 will defend us from our enemies, literally, "will answer in righteousness."
New International Reader's Version (NIRV)
Copyright © 1995, 1996, 1998, 2014 by Biblica, Inc.®. Used by permission. All rights reserved worldwide.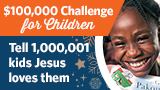 Living Bible (TLB)
The Living Bible copyright © 1971 by Tyndale House Foundation. Used by permission of Tyndale House Publishers Inc., Carol Stream, Illinois 60188. All rights reserved.