---
Ritual and Ceremony Is Not Enough
58 "Shout it loud and clear!
Don't hold back!
Let your voice be like a trumpet blast!
Declare to my people their rebellion
and to Jacob's tribes their sin!
2 Yes, daily they seem to seek me,
pretending that they delight to know my ways,
as though they were a nation that does what is right
and had not rejected the law of their God.
They ask me to show them the right way,
acting as though they are eager to be close to me.
3 They say, 'Why is it that when we fasted,
you did not see it?
We starved ourselves, and you didn't seem to notice.'
"Because on the day you fasted
you were seeking only your own desires,
and you continue to exploit your workers.[a]
4 During your fasts, you quarrel and fight with others
and strike them with an angry fist.
When you fast like that, your voice will not be heard on high.
5 Do you think I'm impressed with that kind of fast?
Is it just a day to starve your bodies,
make others think you're humble,[b]
and lie down in sackcloth and ashes?
Do you call that a fast?
Do you think I, Yahweh, will be pleased with that?[c]
Worship God in Truth
6 "This is the kind of fast that I desire:
Remove the heavy chains of oppression!
Stop exploiting your workers![d]
Set free the crushed and mistreated!
Break off every yoke of bondage!
7 Share your food with the hungry!
Provide for the homeless
and bring them into your home!
Clothe the naked!
Don't turn your back on your own flesh and blood!
8 Then my favor will bathe you in sunlight
until you are like the dawn bursting through a dark night.[e]
And then suddenly your healing[f] will manifest.[g]
You will see your righteousness march out before you,
and the glory of Yahweh will protect you from all harm![h]
9 Then Yahweh will answer you when you pray.
When you cry out for help, he will say,
'I am here.'
"If you banish every form of oppression, the scornful accusations,[i]
and vicious slander,
10 and if you offer yourselves in compassion[j] for the hungry
and relieve those in misery,[k]
then your dawning light will rise in the darkness
and your gloom will turn into noonday splendor![l]
11 Yahweh will always guide you where to go and what to do.
He will fill you with refreshment
even when you are in a dry, difficult place.
He will continually restore strength to you,
so you will flourish like a well-watered garden
and like an ever-flowing, trustworthy spring of blessing.
12 Your people will rebuild long-deserted ruins,
building anew on foundations laid long before you.[m]
You will be known as Repairers of the Cities[n]
and Restorers of Communities.[o]
13 "If you stop pursuing your own desires on my holy day,
and refrain from disregarding the Sabbath,
if you call the Sabbath a delightful pleasure
and Yahweh's holy day honorable,
if you honor it properly by not chasing your own desires,
serving your own interests, and speaking empty words,
14 then you will find the joyous bliss
that comes from serving Yahweh.
And I will cause you to prosper
and be carried triumphantly over the high places of the land.[p]
You will enjoy the heritage of Jacob, your ancestor."
Certainly the mouth of Yahweh has spoken it!
New International Version
Your Prayers Won't Get Off the Ground
58 1-3 "Shout! A full-throated shout!
Hold nothing back—a trumpet-blast shout!
Tell my people what's wrong with their lives,
face my family Jacob with their sins!
They're busy, busy, busy at worship,
and love studying all about me.
To all appearances they're a nation of right-living people—
law-abiding, God-honoring.
They ask me, 'What's the right thing to do?'
and love having me on their side.
But they also complain,
'Why do we fast and you don't look our way?
Why do we humble ourselves and you don't even notice?'
"The bottom line on your 'fast days' is profit.
You drive your employees much too hard.
You fast, but at the same time you bicker and fight.
You fast, but you swing a mean fist.
The kind of fasting you do
won't get your prayers off the ground.
Do you think this is the kind of fast day I'm after:
a day to show off humility?
To put on a pious long face
and parade around solemnly in black?
Do you call that fasting,
a fast day that I, God, would like?
6-9 "This is the kind of fast day I'm after:
to break the chains of injustice,
get rid of exploitation in the workplace,
free the oppressed,
cancel debts.
What I'm interested in seeing you do is:
sharing your food with the hungry,
inviting the homeless poor into your homes,
putting clothes on the shivering ill-clad,
being available to your own families.
Do this and the lights will turn on,
and your lives will turn around at once.
Your righteousness will pave your way.
The God of glory will secure your passage.
Then when you pray, God will answer.
You'll call out for help and I'll say, 'Here I am.'
A Full Life in the Emptiest of Places
9-12 "If you get rid of unfair practices,
quit blaming victims,
quit gossiping about other people's sins,
If you are generous with the hungry
and start giving yourselves to the down-and-out,
Your lives will begin to glow in the darkness,
your shadowed lives will be bathed in sunlight.
I will always show you where to go.
I'll give you a full life in the emptiest of places—
firm muscles, strong bones.
You'll be like a well-watered garden,
a gurgling spring that never runs dry.
You'll use the old rubble of past lives to build anew,
rebuild the foundations from out of your past.
You'll be known as those who can fix anything,
restore old ruins, rebuild and renovate,
make the community livable again.
13-14 "If you watch your step on the Sabbath
and don't use my holy day for personal advantage,
If you treat the Sabbath as a day of joy,
God's holy day as a celebration,
If you honor it by refusing 'business as usual,'
making money, running here and there—
Then you'll be free to enjoy God!
Oh, I'll make you ride high and soar above it all.
I'll make you feast on the inheritance of your ancestor Jacob."
Yes! God says so!
The Passion Translation (TPT)
The Passion Translation®. Copyright © 2017, 2018, 2020 by Passion & Fire Ministries, Inc.
Used by permission. All rights reserved. thePassionTranslation.com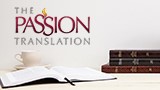 New International Version (NIV)
Holy Bible, New International Version®, NIV® Copyright ©1973, 1978, 1984, 2011 by Biblica, Inc.® Used by permission. All rights reserved worldwide.
NIV Reverse Interlinear Bible: English to Hebrew and English to Greek. Copyright © 2019 by Zondervan.