---
9 "Then I will change the people of the nations, and they will pray to me alone and not to other gods. They will all obey me. 10 Even from distant Ethiopia[a] my scattered people will bring offerings to me. 11 At that time you, my people, will no longer need to be ashamed that you rebelled against me. I will remove everyone who is proud and arrogant, and you will never again rebel against me on my sacred hill.[b]
Read full chapter
Footnotes
Zephaniah 3:10 Hebrew Cush: Cush is the ancient name of the extensive territory south of the First Cataract of the Nile River. This region was called Ethiopia in Graeco-Roman times, and included within its borders most of modern Sudan and some of present-day Ethiopia (Abyssinia).
Zephaniah 3:11 Mount Zion (see Zion in Word List).
New International Version
Restoration of Israel's Remnant
9 "Then I will purify the lips of the peoples,
that all of them may call(A) on the name of the Lord(B)
and serve(C) him shoulder to shoulder.
10 From beyond the rivers of Cush[a](D)
my worshipers, my scattered people,
will bring me offerings.(E)
11 On that day you, Jerusalem, will not be put to shame(F)
for all the wrongs you have done to me,(G)
because I will remove from you
your arrogant boasters.(H)
Never again will you be haughty
on my holy hill.(I)
Read full chapter
Good News Translation (GNT)
Copyright © 1992 by American Bible Society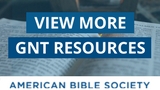 New International Version (NIV)
Holy Bible, New International Version®, NIV® Copyright ©1973, 1978, 1984, 2011 by Biblica, Inc.® Used by permission. All rights reserved worldwide.
NIV Reverse Interlinear Bible: English to Hebrew and English to Greek. Copyright © 2019 by Zondervan.