---
Amplified Bible, Classic Edition
2 [The time for repentance is speeding by like chaff whirled before the wind!] Therefore consider, before God's decree brings forth [the curse upon you], before the time [to repent] is gone like the drifting chaff, before the fierce anger of the Lord comes upon you—yes, before the day of the wrath of the Lord comes upon you!
3 Seek the Lord [inquire for Him, inquire of Him, and require Him as the foremost necessity of your life], all you humble of the land who have acted in compliance with His revealed will and have kept His commandments; seek righteousness, seek humility [inquire for them, require them as vital]. It may be you will be hidden in the day of the Lord's anger.
4 For [hear the fate of the Philistines:] Gaza shall be forsaken and Ashkelon shall become a desolation; the people of Ashdod shall be driven out at noonday and Ekron shall be uprooted.
Read full chapter
Amplified Bible, Classic Edition (AMPC)
Copyright © 1954, 1958, 1962, 1964, 1965, 1987 by The Lockman Foundation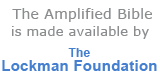 Bible Gateway Recommends
Classic Comparative Side-by-Side Bible (NIV, KJV, NASB, Amplified) , Bonded Leather
Retail: $89.99
Our Price: $57.99
Save: $32.00 (36%)
Amplified Bible, Battlefield of the Mind: Psalms and Proverbs Imitation Leather
Retail: $19.00
Our Price: $13.49
Save: $5.51 (29%)

Battlefield of the Mind New Testament--soft leather-look, arcadia blue
Retail: $24.99
Our Price: $17.49
Save: $7.50 (30%)

Everyday Life Bible: The Power of God's Word for Everyday Living--soft leather-look, blush
Retail: $79.99
Our Price: $54.99
Save: $25.00 (31%)

Battlefield of the Mind Bible, Amplified Version - Hardcover
Retail: $49.99
Our Price: $27.99
Save: $22.00 (44%)
Amplified & NKJV Parallel Bible Bonded Leather, Black, Large Print
Retail: $69.95
Our Price: $39.99
Save: $29.96 (43%)