---
10 1 The vanity of Idolatry. 3 The Lord promiseth to visit and comfort the house of Israel.
1 Ask you of the [a]Lord rain in the time of the latter rain: so shall the Lord make white clouds, and give you showers of rain, and to everyone grass in the field.
2 Surely the [b]idols have spoken vanity, and the soothsayers have seen a lie, and the dreamers have told a vain thing: they comfort in vain: therefore [c]they went away as sheep: they were troubled, because there was no shepherd.
3 My wrath was kindled against the shepherds, and I did visit the [d]goats: but the Lord of hosts will visit his flock the house of Judah, and will make them as [e]his beautiful horse in the battle.
Read full chapter
New International Version
The Lord Will Care for Judah
10 Ask the Lord for rain in the springtime;
it is the Lord who sends the thunderstorms.
He gives showers of rain(A) to all people,
and plants of the field(B) to everyone.
2 The idols(C) speak deceitfully,
diviners(D) see visions that lie;
they tell dreams(E) that are false,
they give comfort in vain.(F)
Therefore the people wander like sheep
oppressed for lack of a shepherd.(G)
3 "My anger burns against the shepherds,
and I will punish the leaders;(H)
for the Lord Almighty will care
for his flock, the people of Judah,
and make them like a proud horse in battle.(I)
Read full chapter
1599 Geneva Bible (GNV)
Geneva Bible, 1599 Edition. Published by Tolle Lege Press. All rights reserved. No part of this publication may be reproduced or transmitted in any form or by any means, electronic or mechanical, without written permission from the publisher, except in the case of brief quotations in articles, reviews, and broadcasts.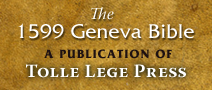 New International Version (NIV)
Holy Bible, New International Version®, NIV® Copyright ©1973, 1978, 1984, 2011 by Biblica, Inc.® Used by permission. All rights reserved worldwide.
NIV Reverse Interlinear Bible: English to Hebrew and English to Greek. Copyright © 2019 by Zondervan.