---
Contemporary English Version
13 That surely is a true saying. And you should be hard on such people, so you can help them grow stronger in their faith. 14 Don't pay any attention to any of those senseless Jewish stories and human commands. These are made up by people who won't obey the truth.
15 Everything is pure for someone whose heart is pure. But nothing is pure for an unbeliever with a dirty mind. That person's mind and conscience are destroyed.
Read full chapter
New International Version
13 This saying is true. Therefore rebuke(A) them sharply, so that they will be sound in the faith(B) 14 and will pay no attention to Jewish myths(C) or to the merely human commands(D) of those who reject the truth.(E) 15 To the pure, all things are pure,(F) but to those who are corrupted and do not believe, nothing is pure.(G) In fact, both their minds and consciences are corrupted.(H)
Read full chapter
Contemporary English Version (CEV)
Copyright © 1995 by American Bible Society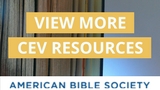 New International Version (NIV)
Holy Bible, New International Version®, NIV® Copyright ©1973, 1978, 1984, 2011 by Biblica, Inc.® Used by permission. All rights reserved worldwide.
NIV Reverse Interlinear Bible: English to Hebrew and English to Greek. Copyright © 2019 by Zondervan.