---
15 You must catch the troubling foxes,
those sly little foxes[a] that hinder our relationship.
For they raid our budding vineyard of love
to ruin what I've planted within you.
Will you catch them and remove them for me?
We will do it together.
Read full chapter
Footnotes
2:15 These "foxes" are the compromises that are hidden deep in our hearts. These are areas of our lives where we have not yet allowed the victory of Christ to shine. The foxes keep the fruit of his Spirit from growing within us.
The Passion Translation (TPT)
The Passion Translation®. Copyright © 2017, 2018, 2020 by Passion & Fire Ministries, Inc.
Used by permission. All rights reserved. thePassionTranslation.com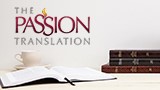 Bible Gateway Recommends
The Passion Translation New Testament with Psalms, Proverbs, and Song of Songs--hardcover, passion in plumb, 2nd edition
Retail: $39.99
Our Price: $16.99
Save: $23.00 (58%)
Romans: Grace and Glory, Paperback
Retail: $14.99
Our Price: $13.49
Save: $1.50 (10%)
Galatians, Ephesians, Philippians, Colossians, I & II Timothy: Letters from Heaven By the Apostle Paul
Retail: $14.99
Our Price: $10.99
Save: $4.00 (27%)
The Passion Translation: Psalms (Poetry on Fire) - Illustrated Journaling Edition
Retail: $19.99
Our Price: $13.99
Save: $6.00 (30%)
TPT: Joshua, Judges, Ruth
Retail: $16.99
Our Price: $12.99
Save: $4.00 (24%)
TPT Large-Print New Testament with Psalms, Proverbs and Song of Songs, 2020 Edition--imitation leather, brown
Retail: $59.99
Our Price: $37.99
Save: $22.00 (37%)