---
13 Figs are beginning to ripen;
the air is fragrant with blossoming vines.
Come then, my love;
my darling, come with me.
14 You are like a dove that hides
in the crevice of a rock.
Let me see your lovely face
and hear your enchanting voice.
15 Catch the foxes, the little foxes,
before they ruin our vineyard in bloom.
Read full chapter
New International Version
13 The fig tree forms its early fruit;(A)
the blossoming(B) vines spread their fragrance.
Arise, come, my darling;
my beautiful one, come with me."
He
14 My dove(C) in the clefts of the rock,
in the hiding places on the mountainside,
show me your face,
let me hear your voice;
for your voice is sweet,
and your face is lovely.(D)
15 Catch for us the foxes,(E)
the little foxes
that ruin the vineyards,(F)
our vineyards that are in bloom.(G)
Read full chapter
Good News Translation (GNT)
Copyright © 1992 by American Bible Society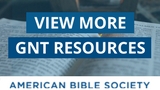 New International Version (NIV)
Holy Bible, New International Version®, NIV® Copyright ©1973, 1978, 1984, 2011 by Biblica, Inc.® Used by permission. All rights reserved worldwide.
NIV Reverse Interlinear Bible: English to Hebrew and English to Greek. Copyright © 2019 by Zondervan.