---
Amplified Bible, Classic Edition
17 For the Scripture says to Pharaoh, I have raised you up for this very purpose of displaying My power in [dealing with] you, so that My name may be proclaimed the whole world over.
18 So then He has mercy on whomever He wills (chooses) and He hardens (makes stubborn and unyielding the heart of) whomever He wills.
19 You will say to me, Why then does He still find fault and blame us [for sinning]? For who can resist and withstand His will?
Read full chapter
Amplified Bible, Classic Edition (AMPC)
Copyright © 1954, 1958, 1962, 1964, 1965, 1987 by The Lockman Foundation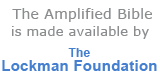 Bible Gateway Recommends
Everyday Life Bible: The Power Of God's Word For Everyday Living, Imitation Leather, pink
Retail: $79.99
Our Price: $54.99
Save: $25.00 (31%)

Amplified Large-Print Bible--bonded leather, burgundy
Retail: $69.99
Our Price: $45.99
Save: $24.00 (34%)

Amplified Holy Bible, hardcover
Retail: $29.99
Our Price: $19.99
Save: $10.00 (33%)

Amplified Thinline Holy Bible--bonded leather, burgundy - Imperfectly Imprinted Bibles
Retail: $49.99
Our Price: $25.59
Save: $24.40 (49%)
Amplified Thinline Holy Bible--bonded leather, black - Imperfectly Imprinted Bibles
Retail: $49.99
Our Price: $17.59
Save: $32.40 (65%)
Classic Comparative Side-by-Side Bible (NIV, KJV, NASB, Amplified) , Bonded Leather
Retail: $89.99
Our Price: $57.99
Save: $32.00 (36%)