---
Amplified Bible, Classic Edition
14 If it is the adherents of the Law who are to be the heirs, then faith is made futile and empty of all meaning and the promise [of God] is made void (is annulled and has no power).
15 For the Law results in [divine] wrath, but where there is no law there is no transgression [of it either].
16 Therefore, [inheriting] the promise is the outcome of faith and depends [entirely] on faith, in order that it might be given as an act of grace (unmerited favor), to make it stable and valid and guaranteed to all his descendants—not only to the devotees and adherents of the Law, but also to those who share the faith of Abraham, who is [thus] the father of us all.
Read full chapter
Amplified Bible, Classic Edition (AMPC)
Copyright © 1954, 1958, 1962, 1964, 1965, 1987 by The Lockman Foundation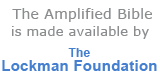 Bible Gateway Recommends
Battlefield of the Mind Bible: Renew Your Mind Through the Power of God's Word, Imitation Leather, pink
Retail: $79.99
Our Price: $53.99
Save: $26.00 (33%)
Amplified Reading Bible, Imitation Leather, Brown, Indexed
Retail: $59.99
Our Price: $38.99
Save: $21.00 (35%)

Battlefield of the Mind Bible, Amplified Version - Hardcover
Retail: $49.99
Our Price: $27.99
Save: $22.00 (44%)
Amplified Thinline Holy Bible--bonded leather, burgundy
Retail: $49.99
Our Price: $29.99
Save: $20.00 (40%)

NKJV Amplified Parallel Large-Print Bible Flexisoft, Blue/Brown
Retail: $79.95
Our Price: $46.99
Save: $32.96 (41%)
KJV and Amplified Parallel Bible, Large Print, Hardcover
Retail: $49.99
Our Price: $29.99
Save: $20.00 (40%)