---
Contemporary English Version
14 If Abraham and his descendants were given this promise because they had obeyed a law, then faith would mean nothing, and the promise would be worthless.
15 God becomes angry when his Law is broken. But where there isn't a law, it cannot be broken. 16 Everything depends on having faith in God, so that God's promise is assured by his great kindness. This promise isn't only for Abraham's descendants who have the Law. It is for all who are Abraham's descendants because they have faith, just as he did. Abraham is the ancestor of us all.
Read full chapter
New International Version
14 For if those who depend on the law are heirs, faith means nothing and the promise is worthless,(A) 15 because the law brings wrath.(B) And where there is no law there is no transgression.(C)
16 Therefore, the promise comes by faith, so that it may be by grace(D) and may be guaranteed(E) to all Abraham's offspring—not only to those who are of the law but also to those who have the faith of Abraham. He is the father of us all.(F)
Read full chapter
Contemporary English Version (CEV)
Copyright © 1995 by American Bible Society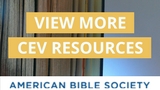 New International Version (NIV)
Holy Bible, New International Version®, NIV® Copyright ©1973, 1978, 1984, 2011 by Biblica, Inc.® Used by permission. All rights reserved worldwide.
NIV Reverse Interlinear Bible: English to Hebrew and English to Greek. Copyright © 2019 by Zondervan.