---
Amplified Bible, Classic Edition
12 That is, that we may be mutually strengthened and encouraged and comforted by each other's faith, both yours and mine.
13 I want you to know, brethren, that many times I have planned and intended to come to you, though thus far I have been hindered and prevented, in order that I might have some fruit (some result of my labors) among you, as I have among the rest of the Gentiles.
14 Both to Greeks and to barbarians (to the cultured and to the uncultured), both to the wise and the foolish, I have an obligation to discharge and a duty to perform and a debt to pay.
Read full chapter
Amplified Bible, Classic Edition (AMPC)
Copyright © 1954, 1958, 1962, 1964, 1965, 1987 by The Lockman Foundation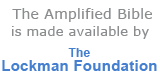 Bible Gateway Recommends
Battlefield of the Mind Bible, Amplified Version - Hardcover
Retail: $49.99
Our Price: $27.99
Save: $22.00 (44%)

Classic Comparative Side-by-Side Bible (NIV, KJV, NASB, Amplified)
Retail: $54.99
Our Price: $35.99
Save: $19.00 (35%)

Everyday Life Bible: The Power of God's Word for Everyday Living--soft leather-look, teal - Slightly Imperfect
Retail: $79.99
Our Price: $45.89
Save: $34.10 (43%)
KJV and Amplified Parallel Bible, Large Print, Bonded Leather, Black
Retail: $79.99
Our Price: $53.99
Save: $26.00 (33%)

Amplified Study Bible--soft leather-look, purple (indexed)
Retail: $79.99
Our Price: $52.99
Save: $27.00 (34%)

Battlefield of the Mind New Testament--soft leather-look, coral
Retail: $24.99
Our Price: $16.99
Save: $8.00 (32%)