---
6 [a]And if it be of grace, it is [b]no more of works: or else were grace no more grace: but if it be of works, it is no more grace: or else were work no more work.
7 What then? Israel hath not obtained that he sought: but the election hath obtained it, and the rest have been [c]hardened,
8 [d]According as it is written, (A)God hath given them the spirit of [e]slumber: eyes that they [f]should not see, and ears that they should not hear unto this day.
Read full chapter
New International Version
6 And if by grace, then it cannot be based on works;(A) if it were, grace would no longer be grace.
7 What then? What the people of Israel sought so earnestly they did not obtain.(B) The elect among them did, but the others were hardened,(C) 8 as it is written:
"God gave them a spirit of stupor,
eyes that could not see
and ears that could not hear,(D)
to this very day."[a](E)
Read full chapter
1599 Geneva Bible (GNV)
Geneva Bible, 1599 Edition. Published by Tolle Lege Press. All rights reserved. No part of this publication may be reproduced or transmitted in any form or by any means, electronic or mechanical, without written permission from the publisher, except in the case of brief quotations in articles, reviews, and broadcasts.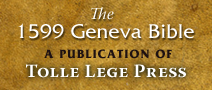 New International Version (NIV)
Holy Bible, New International Version®, NIV® Copyright ©1973, 1978, 1984, 2011 by Biblica, Inc.® Used by permission. All rights reserved worldwide.
NIV Reverse Interlinear Bible: English to Hebrew and English to Greek. Copyright © 2019 by Zondervan.