---
Amplified Bible, Classic Edition
4 Who shall not reverence and glorify Your name, O Lord [giving You honor and praise in worship]? For You only are holy. All the nations shall come and pay homage and adoration to You, for Your just judgments (Your righteous sentences and deeds) have been made known and displayed.(A)
5 After this I looked and the sanctuary of the tent of the testimony in heaven was thrown open,
6 And there came out of the temple sanctuary the seven angels bringing the seven plagues (afflictions, calamities). They were arrayed in pure gleaming linen, and around their breasts they wore golden girdles.
Read full chapter
New International Version
4 Who will not fear you, Lord,(A)
and bring glory to your name?(B)
For you alone are holy.
All nations will come
and worship before you,(C)
for your righteous acts(D) have been revealed."[a]
5 After this I looked, and I saw in heaven the temple(E)—that is, the tabernacle of the covenant law(F)—and it was opened.(G) 6 Out of the temple(H) came the seven angels with the seven plagues.(I) They were dressed in clean, shining linen(J) and wore golden sashes around their chests.(K)
Read full chapter
Footnotes
Revelation 15:4 Phrases in this song are drawn from Psalm 111:2,3; Deut. 32:4; Jer. 10:7; Psalms 86:9; 98:2.
Amplified Bible, Classic Edition (AMPC)
Copyright © 1954, 1958, 1962, 1964, 1965, 1987 by The Lockman Foundation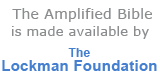 New International Version (NIV)
Holy Bible, New International Version®, NIV® Copyright ©1973, 1978, 1984, 2011 by Biblica, Inc.® Used by permission. All rights reserved worldwide.
NIV Reverse Interlinear Bible: English to Hebrew and English to Greek. Copyright © 2019 by Zondervan.