---
The Majesty of God
A Friday song composed by King David after being resettled in the land[a]
93 Look! Yahweh now reigns as King!
He has covered himself with majesty and strength,
wearing them as his splendor-garments.
Regal power surrounds him as he sits securely on his throne.
He's in charge of it all, the entire world,
and he knows what he's doing!
2 Lord, you have reigned as King from the very beginning of time.
Eternity is your home.
3–4 Chaos once challenged you.
The raging waves lifted themselves over and over,
high above the ocean's depths, letting out their mighty roar!
Yet at the sound of your voice they were all stilled by your might.
What a majestic King, filled with power!
5 Nothing could ever change your royal decrees;
they will last forever!
Holiness is the beauty that fills your house;[b]
you are the one who abides forevermore!
Footnotes
93 This inscription is found in the Septuagint. Jews called this psalm "The Friday psalm." The Talmud indicates that this psalm was sung every Friday in the temple by the Levites.
93:5 Believers are now God's house, made holy by the blood of Jesus. See 1 Cor. 3:16 and Heb. 3:6.
The Passion Translation (TPT)
The Passion Translation®. Copyright © 2017, 2018, 2020 by Passion & Fire Ministries, Inc.
Used by permission. All rights reserved. thePassionTranslation.com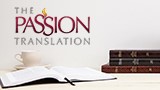 Bible Gateway Recommends
TPT New Testament with Psalms, Proverbs and Song of Songs, 2020 Edition--imitation leather, black
Retail: $49.99
Our Price: $33.99
Save: $16.00 (32%)
TPT Compact New Testament with Psalms, Proverbs and Song of Songs, 2020 Edition--imitation leather, teal
Retail: $29.99
Our Price: $19.99
Save: $10.00 (33%)
Revelation: The Unveiling of Jesus Christ - eBook
Retail: $9.99
Our Price: $7.99
Save: $2.00 (20%)
TPT Large-Print New Testament with Psalms, Proverbs, and Song of Songs, 2020 Edition--imitation leather, gray
Retail: $59.99
Our Price: $39.99
Save: $20.00 (33%)
The Passion Translation: 1st & 2nd Corinthians - Love and Truth
Retail: $14.99
Our Price: $13.49
Save: $1.50 (10%)
The Book of Genesis: Firstfruits - eBook
Retail: $9.99
Our Price: $7.99
Save: $2.00 (20%)