---
Psalm 45
For the choir director: A love song to be sung to the tune "Lilies." A psalm[a] of the descendants of Korah.
1 Beautiful words stir my heart.
I will recite a lovely poem about the king,
for my tongue is like the pen of a skillful poet.
2 You are the most handsome of all.
Gracious words stream from your lips.
God himself has blessed you forever.
3 Put on your sword, O mighty warrior!
You are so glorious, so majestic!
4 In your majesty, ride out to victory,
defending truth, humility, and justice.
Go forth to perform awe-inspiring deeds!
5 Your arrows are sharp, piercing your enemies' hearts.
The nations fall beneath your feet.
6 Your throne, O God,[b] endures forever and ever.
You rule with a scepter of justice.
7 You love justice and hate evil.
Therefore God, your God, has anointed you,
pouring out the oil of joy on you more than on anyone else.
8 Myrrh, aloes, and cassia perfume your robes.
In ivory palaces the music of strings entertains you.
9 Kings' daughters are among your noble women.
At your right side stands the queen,
wearing jewelry of finest gold from Ophir!
10 Listen to me, O royal daughter; take to heart what I say.
Forget your people and your family far away.
11 For your royal husband delights in your beauty;
honor him, for he is your lord.
12 The princess of Tyre[c] will shower you with gifts.
The wealthy will beg your favor.
13 The bride, a princess, looks glorious
in her golden gown.
14 In her beautiful robes, she is led to the king,
accompanied by her bridesmaids.
15 What a joyful and enthusiastic procession
as they enter the king's palace!
16 Your sons will become kings like their father.
You will make them rulers over many lands.
17 I will bring honor to your name in every generation.
Therefore, the nations will praise you forever and ever.
5 Now concerning how and when all this will happen, dear brothers and sisters,[a] we don't really need to write you. 2 For you know quite well that the day of the Lord's return will come unexpectedly, like a thief in the night. 3 When people are saying, "Everything is peaceful and secure," then disaster will fall on them as suddenly as a pregnant woman's labor pains begin. And there will be no escape.
4 But you aren't in the dark about these things, dear brothers and sisters, and you won't be surprised when the day of the Lord comes like a thief.[b] 5 For you are all children of the light and of the day; we don't belong to darkness and night. 6 So be on your guard, not asleep like the others. Stay alert and be clearheaded. 7 Night is the time when people sleep and drinkers get drunk. 8 But let us who live in the light be clearheaded, protected by the armor of faith and love, and wearing as our helmet the confidence of our salvation.
9 For God chose to save us through our Lord Jesus Christ, not to pour out his anger on us. 10 Christ died for us so that, whether we are dead or alive when he returns, we can live with him forever. 11 So encourage each other and build each other up, just as you are already doing.
Paul's Final Advice
12 Dear brothers and sisters, honor those who are your leaders in the Lord's work. They work hard among you and give you spiritual guidance. 13 Show them great respect and wholehearted love because of their work. And live peacefully with each other.
14 Brothers and sisters, we urge you to warn those who are lazy. Encourage those who are timid. Take tender care of those who are weak. Be patient with everyone.
15 See that no one pays back evil for evil, but always try to do good to each other and to all people.
16 Always be joyful. 17 Never stop praying. 18 Be thankful in all circumstances, for this is God's will for you who belong to Christ Jesus.
19 Do not stifle the Holy Spirit. 20 Do not scoff at prophecies, 21 but test everything that is said. Hold on to what is good. 22 Stay away from every kind of evil.
Paul's Final Greetings
23 Now may the God of peace make you holy in every way, and may your whole spirit and soul and body be kept blameless until our Lord Jesus Christ comes again. 24 God will make this happen, for he who calls you is faithful.
25 Dear brothers and sisters, pray for us.
26 Greet all the brothers and sisters with a sacred kiss.
27 I command you in the name of the Lord to read this letter to all the brothers and sisters.
28 May the grace of our Lord Jesus Christ be with you.
New Living Translation (NLT)
Holy Bible, New Living Translation, copyright © 1996, 2004, 2015 by Tyndale House Foundation. Used by permission of Tyndale House Publishers, Inc., Carol Stream, Illinois 60188. All rights reserved.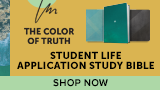 Bible Gateway Recommends
NLT Large-Print Premium Value Thinline Bible, Filament Enabled Edition--soft leather-look, brown
Retail: $22.99
Our Price: $18.99
Save: $4.00 (17%)
NLT Life Application Large-Print Study Bible, Third Edition--hardcover, red letter (indexed)
Retail: $74.99
Our Price: $47.99
Save: $27.00 (36%)
NLT Giant-Print Personal-Size Bible, Filament Enabled Edition--soft leather-look, rustic brown
Retail: $39.99
Our Price: $28.99
Save: $11.00 (28%)
NLT Inspire Bible: The Bible for Creative Journaling, Softcover
Retail: $29.99
Our Price: $23.99
Save: $6.00 (20%)
NLT Inspire FAITH Bible, Filament Enabled Edition, LeatherLike, Pink Watercolor Garden
Retail: $74.99
Our Price: $48.49
Save: $26.50 (35%)
NLT Hands-On Bible, Softcover
Retail: $24.99
Our Price: $19.49
Save: $5.50 (22%)