---
5 I have always trusted in your kindness, so answer me.
I will spin in a circle of joy
when your salvation[a] lifts me up.
Read full chapter
Footnotes
13:5 The term for "salvation" is yeshu'sh, which is nearly identical to "Jesus, our Salvation." Our Savior plans blessings and hope for each of us as we trust in him.
The Passion Translation (TPT)
The Passion Translation®. Copyright © 2017, 2018, 2020 by Passion & Fire Ministries, Inc.
Used by permission. All rights reserved. thePassionTranslation.com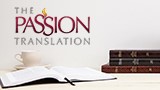 Bible Gateway Recommends
The Passion Translation: 12 Volume Boxed Set
Retail: $124.99
Our Price: $70.99
Save: $54.00 (43%)
The Passion Translation (TPT): New Testament with Psalms, Proverbs, and Song of Songs - 2nd edition, imitation leather, brown
Retail: $49.99
Our Price: $21.99
Save: $28.00 (56%)
TPT Large-Print New Testament with Psalms, Proverbs and Song of Songs, 2020 Edition--imitation leather, violet
Retail: $59.99
Our Price: $39.99
Save: $20.00 (33%)
The Passion Translation (TPT): New Testament with Psalms, Proverbs, and Song of Songs - 2nd edition, hardcover, floral
Retail: $29.99
Our Price: $13.99
Save: $16.00 (53%)
TPT New Testament with Psalms, Proverbs and Song of Songs, 2020 Edition--cloth over board, berry blossoms
Retail: $39.99
Our Price: $23.99
Save: $16.00 (40%)
The Passion Translation: Psalms - Poetry on Fire
Retail: $19.99
Our Price: $13.99
Save: $6.00 (30%)