---
Contemporary English Version
(A psalm by the people of Korah for the music leader.)
A Prayer for Peace
85 Our Lord, you have blessed
your land
and made all go well
for Jacob's descendants.
2 You have forgiven the sin
and taken away the guilt
of your people.
3 Your fierce anger is no longer
aimed at us.
4 Our Lord and our God,
you save us!
Please bring us back home
and don't be angry.
5 Will you always be angry
with us and our families?
6 Won't you give us fresh life
and let your people be glad
because of you?
7 Show us your love
and save us!
8 I will listen to you, Lord God,
because you promise peace
to those
who are faithful
and no longer foolish.
9 You are ready to rescue
everyone who worships you,
so that you will live with us
in all of your glory.
10 Love and loyalty
will come together;
goodness and peace
will unite.
11 Loyalty will sprout
from the ground;
justice will look down
from the sky above.
12 Our Lord, you will bless us;
our land will produce
wonderful crops.
13 Justice will march in front,
making a path
for you to follow.
New International Version
85 Lord, thou hast been favourable unto thy land: thou hast brought back the captivity of Jacob.
2 Thou hast forgiven the iniquity of thy people, thou hast covered all their sin. Selah.
3 Thou hast taken away all thy wrath: thou hast turned thyself from the fierceness of thine anger.
4 Turn us, O God of our salvation, and cause thine anger toward us to cease.
5 Wilt thou be angry with us for ever? wilt thou draw out thine anger to all generations?
6 Wilt thou not revive us again: that thy people may rejoice in thee?
7 Shew us thy mercy, O Lord, and grant us thy salvation.
8 I will hear what God the Lord will speak: for he will speak peace unto his people, and to his saints: but let them not turn again to folly.
9 Surely his salvation is nigh them that fear him; that glory may dwell in our land.
10 Mercy and truth are met together; righteousness and peace have kissed each other.
11 Truth shall spring out of the earth; and righteousness shall look down from heaven.
12 Yea, the Lord shall give that which is good; and our land shall yield her increase.
13 Righteousness shall go before him; and shall set us in the way of his steps.
Contemporary English Version (CEV)
Copyright © 1995 by American Bible Society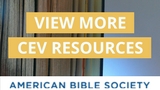 New International Version (NIV)
Holy Bible, New International Version®, NIV® Copyright ©1973, 1978, 1984, 2011 by Biblica, Inc.® Used by permission. All rights reserved worldwide.
NIV Reverse Interlinear Bible: English to Hebrew and English to Greek. Copyright © 2019 by Zondervan.