---
Amplified Bible, Classic Edition
18 [After all] You do set the [wicked] in slippery places; You cast them down to ruin and destruction.
19 How they become a desolation in a moment! They are utterly consumed with terrors!
20 As a dream [which seems real] until one awakens, so, O Lord, when You arouse Yourself [to take note of the wicked], You will despise their outward show.
Read full chapter
Amplified Bible, Classic Edition (AMPC)
Copyright © 1954, 1958, 1962, 1964, 1965, 1987 by The Lockman Foundation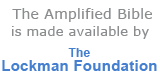 Bible Gateway Recommends
Amplified Holy Bible--bonded leather, burgundy (indexed)
Retail: $59.99
Our Price: $38.99
Save: $21.00 (35%)

Battlefield of the Mind Bible: Renew Your Mind Through the Power of God's Word, Imitation Leather, pink
Retail: $79.99
Our Price: $53.99
Save: $26.00 (33%)
Amplified Reading Bible, Imitation Leather, Brown, Indexed
Retail: $59.99
Our Price: $38.99
Save: $21.00 (35%)

Amplified Large-Print Thinline Bible--bonded leather, burgundy - Slightly Imperfect
Retail: $69.99
Our Price: $39.09
Save: $30.90 (44%)
Amplified & NKJV Parallel Bible Bonded Leather, Black, Large Print
Retail: $69.95
Our Price: $39.99
Save: $29.96 (43%)
Amplified Holy Bible, hardcover
Retail: $29.99
Our Price: $19.99
Save: $10.00 (33%)