---
Amplified Bible, Classic Edition
18 [After all] You do set the [wicked] in slippery places; You cast them down to ruin and destruction.
19 How they become a desolation in a moment! They are utterly consumed with terrors!
20 As a dream [which seems real] until one awakens, so, O Lord, when You arouse Yourself [to take note of the wicked], You will despise their outward show.
Read full chapter
New International Version
Amplified Bible, Classic Edition (AMPC)
Copyright © 1954, 1958, 1962, 1964, 1965, 1987 by The Lockman Foundation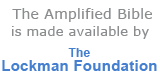 New International Version (NIV)
Holy Bible, New International Version®, NIV® Copyright ©1973, 1978, 1984, 2011 by Biblica, Inc.® Used by permission. All rights reserved worldwide.
NIV Reverse Interlinear Bible: English to Hebrew and English to Greek. Copyright © 2019 by Zondervan.